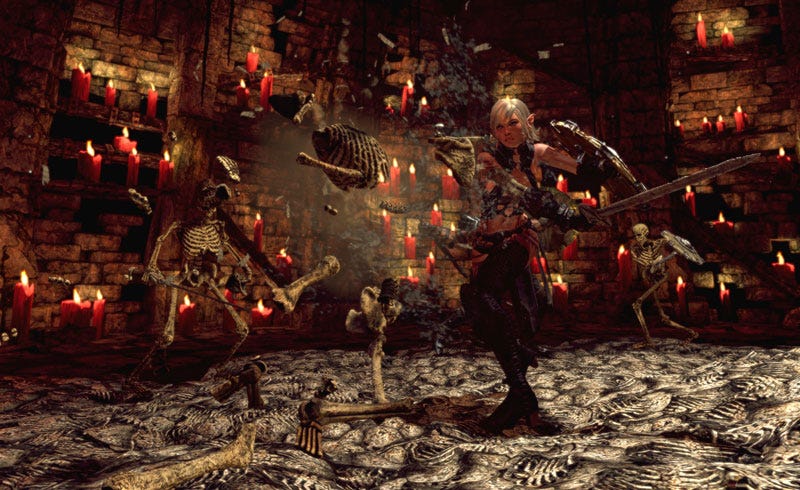 The head of Hunted: The Demon's Forge developer, inXile Entertainment, doesn't take comparisons of his dark dungeon crawler to Gears of War unkindly—even if you're labeling it Spears of War and Gears of Warcraft.
inXile CEO Brian Fargo takes that as a compliment, but when showing us the latest version of Hunted: The Demon's Forge, he stressed that the dark medieval fantasy game is more than just cover and combat. Hunted, Fargo says, is a game about getting lost in its dungeon crawler world.
Fargo, who says he was heavily influenced by the original Wizardry and later went on to help create The Bard's Tale, Baldur's Gate and Fallout, wanted to focus more on his latest game's depth, puzzles and its non-critical path of an adventure.
Like our previous eyes-on time with Hunted: The Demon's Forge at this year's Game Developers Conference, the game's cooperative stars Caddoc and E'lara set off on a mysterious quest. It kicked off with the elfin ranger E'lara, still as minimally clothed as ever, letting curiosity get the best of her. After E'lara touches a cursed skull—which looked suspect to begin with—day turns to night, the earth begins to shake and the world starts to crumble around our heroes, who make haste through crumbling spires and walls to safety.