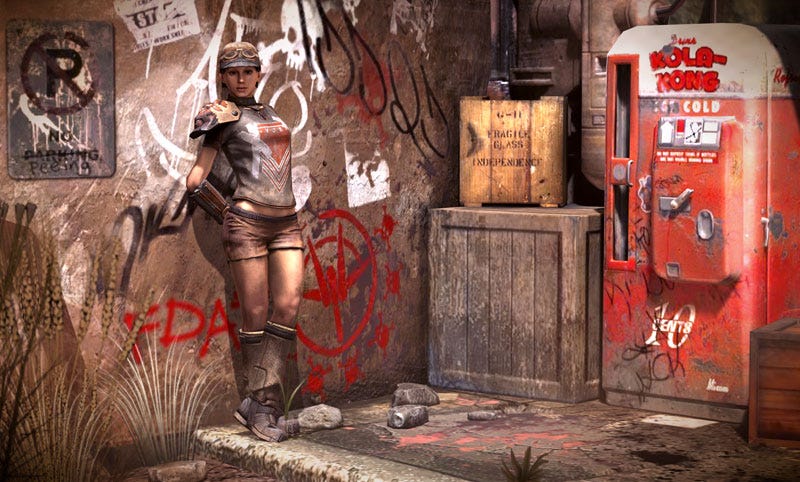 Quake and Doom makers id Software may be treading well worn post-apocalyptic territory in Rage, but for all the grotesque mutants and post-cataclysmic disaster, this Mad Max-style story of survival looks like... fun.
Some of that may be due to the bright, blue-skied environments rendered by the developer's id Tech 5 engine. There's an uncommon feeling of randomness to Rage's organic and obsessively detailed cities, sewers and rocky desert wastelands. It smacks of a less stylized Borderlands, thanks to its first-person perspective, drivable dune buggies and shantytowns.
The dusty, dirty streets of Wellspring, a "cornerstone of trade and economy," are contrasted by the bright orange and blue of neon signs. The gruff, burly grease monkeys hovering over dune buggies are complemented by the occasional cute gearhead girl. Vending machines and colorful graffiti pop out from earth toned environments. Rage looks like the most enjoyable post-apocalypse in which to hang.
Similarly impressive was the lifelike nature of Wellspring's human inhabitants. I tend to think of id as capable at creating a believable hellspawn, less so for its ability to shape and animate a normal human face. Rage has me rethinking that.
Our eyes-on demo of Rage in Las Vegas started in much the same way our Rage at Quakecon demo did, revisiting much of the same people (Crazy Joe), places (the desert vistas) and things (the deadly, mutant-slaying boomerang known as the Wingstick. This, however, was my first time seeing Rage's driving in action, a segment more linear and stiff than I was expecting.