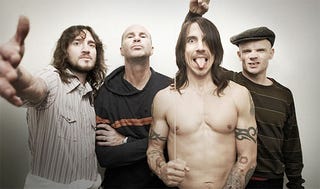 Guitar Hero publisher Activision may be scaling back its plans for the music game in 2010, but it may have at least one more band-centric effort in the works—Guitar Hero: Red Hot Chili Peppers.
According to details from a survey forwarded to Kotaku, Activision appears to be gauging interest in a Guitar Hero: Red Hot Chili Peppers concept. Similar to previous games that highlight rock bands like Metallica, Van Halen and Aerosmith, the Red Hot Chili Peppers branded version is pitched as highlighting the band's greatest hits and songs from guest artists chosen by the headlining band.
"Celebrate the entirety of the Red Hot Chili Peppers' life, starting with their early days in LA, to their famous Hyde Park concert to their highly anticipated new studio album," notes the purported survey. "Discover the story behind their legendary music as you unlock interviews, retrospectives, concert footage and other commentary."
The survey specifically names albums By The Way, Californication, Give It Away and the Red Hot Chili Peppers' "upcoming studio album to be released in 2011."
The Red Hot Chili Peppers' music has appeared previously in the series, with individual songs popping up in Guitar Hero III and the Guitar Hero: On Tour games. The band's breakout album Blood Sugar Sex Magik appeared as a full album download for competitor Rock Band.