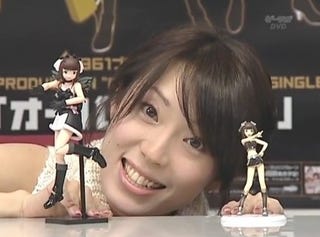 Oh hi! This is 28 year-old voice actress Eriko Nakamura. She voices Haruka Amami, one of the main idols in Namco's idol simulator THE iDOLM@STER franchise.
The Yokohama-native was in Japan's Kansai area recently, visiting historic Kyoto. She stopped by sites like Kiyomizu Temple and the Golden Pavilion. On her blog, photos were uploaded of her at each location.
Someone on the Japanese internet then decided to use Google Maps to map out the route she took during her trip. That's...kinda creepy! Thankfully, these blog posts were uploaded at night — long after Nakamura had visited the sights.
While this map was most likely created as a gag (hopefully), blog photos of idols and voice actresses do undergo intense scrutiny. For example, during Christmas, which is often a big date night for couples, many idols and voice actresses post photos of themselves, claiming to be "dateless" or "alone". These photos and blog posts are then dissected and sussed out to attempt to see who is really alone and who is not.
What's more, any slight changes in hair or clothes is noted. Recently, it was noted that Haruhi Suzumiya voice actress Aya Hirano was wearing what some were claiming could be an engagement ring. Hirano's talent agency had not even announced that she had a boyfriend. (While the news of couples is often broken by Japanese tabloids, the official word typically comes via talent agencies.)