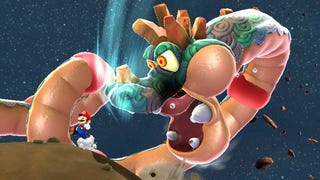 With their next Mario game, it once again appears that Nintendo is trying to have it both ways. I'm not complaining.
Super Mario Galaxy 2 appears to be harder than its predecessor, while offering several ways to make the game quite easy. Plus some fat has been trimmed to make room for an apparent abundance of new ideas.
This morning I played a near-final Super Mario Galaxy 2 on a Wii at Nintendo's New York City office and, no, this shouldn't surprise you: It was very fun.
Mario is making one of his fastest turnarounds on a console with his new May adventure, the second big romp for gaming's most famous hero since November, the month of New Super Mario Bros. Wii's release.
Galaxy 2 comes from the team behind 2007's Super Mario Galaxy, returning Mario to the moon-hopping play style of the first. Added in are all-new levels, franchise favorite Yoshi the dinosaur, some new temporary powers for Mario, and two crutches for those who might be daunted by all of the dazzling new complexities of the level design: a tweaked co-op mode and a modified version of New Super Mario Bros. Wii's helper guide.
The new assistance tools, a Nintendo representative explained to me today, have given the game's development team license to make the new Galaxy tougher than its predecessor. The tweaked co-operative Co-Star mode, which allows a second player to command an on-screen cursor with a second Wii Remote now allows that second player to not just stun enemies and collect gems but to kill bad guys who menace Mario.
A bunch of in-world green TVs can be accessed to display short full-screen play-throughs of areas that require a new move or trick.
A recently-revealed Cosmic Guide option works more like the New Super Mario Bros. Wii assistance system. Should a player die several times in a Galaxy 2 level, a princess whose body appears to be made of starry sky appears. Talking to her causes Mario to relinquish control to the Wii. The automatically-controlled Mario jumps through the next sequence, though the player can press a button on their Wii controller to resume control at just about any time (I tried to take control while Mario was mid-jump and the Wii ignored me; it let me take control once Mario was on safe ground.)
Using the Cosmic Guide has a price. While the goals for most of the levels in Super Mario Galaxy 2 are gold stars, anyone who uses the Cosmic Guide will only be able to get a bronze star. Such a player would have to re-play the level to earn a gold star.
An empowered optional second player and a deep hint system do seem like good justifications for making Galaxy 2's main levels tough. The impression I got is that the levels will be just that, harder than the first game's, though that is impossible to judge from a quick 30-minute sampling of the game. Early levels were filled with floating platforms and required jump-off points. Enemies buzzed everywhere; the level of engagement required was more intense, earlier than I recalled being the case with the first Galaxy.
I was shown some of Mario's excellent new abilities. The already-revealed Spin-Drill sends a spinning Mario burrowing straight down into a spherical planetoid he is on, letting him emerge either in its hollow core or on the other side.