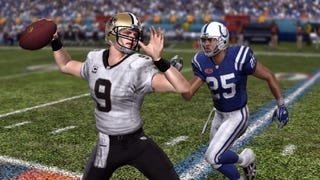 Drew Brees, quarterback of the reigning Super Bowl champion New Orleans Saints, has a couple of TV talk show appearances booked for Thursday and Friday. Know what else happens Thursday? EA Sports announces its Madden NFL 11 cover athlete.
Pasta Padre earlier today noted that Brees was scheduled for a Friday appearance on Live with Regis and Kelly and to deliver the Top 10 List on David Letterman on Thursday night. Both shows are taped in New York, the NFL Draft's in New York tomorrow night, and EA Sports is in New York to do a promotional blitz for, among other things, Madden and NCAA Football 11.
Brees was one of three candidates in a voting contest widely expected to be a coronation for the Saints superstar. The others were Indianapolis wide receiver Reggie Wayne, a nice guy but not a household name, and Vikings defensive lineman Jared Allen, who in addition to being a defensive player (only two have made a Madden cover, one sharing it), is not well liked.