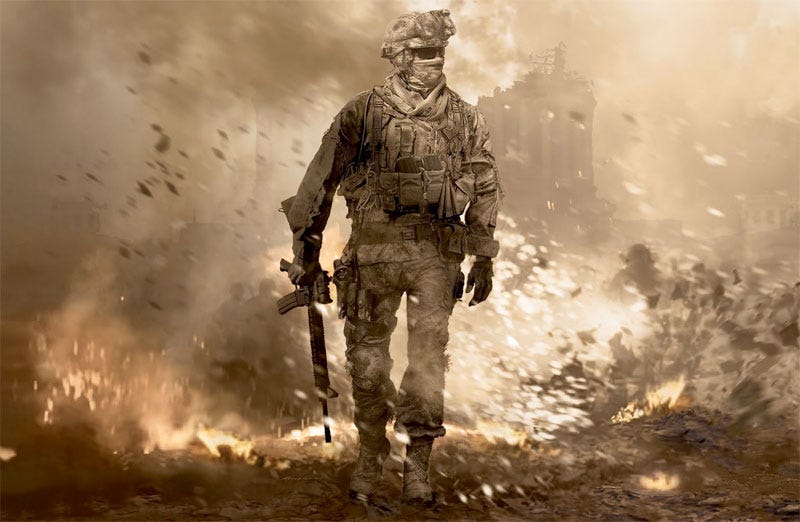 The ongoing legal tussle between Call of Duty: Modern Warfare developer Infinity Ward and publishing giant Activision is full of intrigue, accusations, lawsuits, a mass exodus of key staffers from the studio behind the game and, now, allegations of sabotage. Updated with recent developments.
At stake is the future of Infinity Ward, the studio behind one of the video game industry's biggest properties, a chance for EA—Activision's hated rival—to now build a new franchise with two of Activision's top creators, and the future of a now legally-entangled Modern Warfare brand.
Who are the key players in the drama behind the legal warfare? How did we get here? How might it affect the fans of the Call of Duty brand? Here's a summary of the still ongoing big break-up of Activision and Infinity Ward.
The Players
Activision - The Publisher
The company was founded in 1979 by former music industry executive Jim Levy and former Atari programmers David Crane, Larry Kaplan, Alan Miller and Bob Whitehead, establishing the first independent third-party publisher for video game consoles. Those original members were essentially a pissed off group of Atari programmers who felt snubbed by a lack of recognition (and compensation) for their contributions to Atari. In 2008, Activision, thriving from sales of games like Call of Duty and Guitar Hero, merged with Vivendi Games, which was the owner of World of Warcraft and StarCraft developer Blizzard. The resulting entity, which is majority owned by French media conglomerate Vivendi SA, is known as Activision Blizzard. Today, Activision Blizzard is one of the world's largest video game publishers, owners of the lucrative Guitar Hero brand of music games, Call of Duty line of military shooters and Blizzard's WarCraft, Starcraft and Diablo properties.
In 2009, the year Call of Duty: Modern Warfare 2 was released, Activision Blizzard made $4.28 billion, with $1.56 billion of that cash coming in the quarter in which Modern Warfare 2 was released. In November 2009, Activision said it had made $3 billion from Call of Duty games, originally created by developer Infinity Ward.