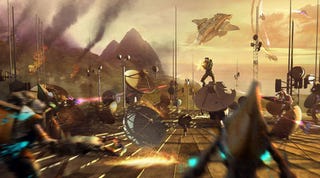 Once upon a time, Microsoft was going to make a big budget Hollywood version of the Halo franchise. Until it spectacularly fell apart. That doesn't mean it won't ever happen, says the company.
Back in 2005, a film version of Halo was first penned by Alex Garland, writer of The Beach novel and 28 Days Later screenplay, and it was slated to be released by 20th Century Fox. Acting as producer Peter Jackson and his WETA studio began making props for the Halo film. And filmmaker Neill Blomkamp began making Halo short films for Microsoft.
But by 2007, it seemed that the project has stalled and wasn't going to happen, and the director said the project was "entirely dead". Bloomkamp and Jackson went on to create sci-fi flick District 9. Blomkamp told MTV in summer 2009 that he "spent five months working on it [the Halo film], like, 24 hours a day" only to have "the rug pulled out from underneath" him. That's one of the reasons it will be "difficult" to revisit that Halo movie, at least in its current incarnation, particularly on top of the "politics" involved.