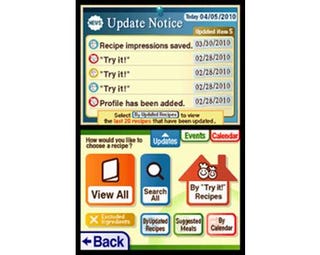 America's Test Kitchen: Let's Get Cooking isn't just a game. It certainly isn't just an interactive cook book jammed onto the DS. This is one of three games that Nintendo thinks will convince people to buy the big-screened DSi XL.
With more than 300 recipes, tons of written tutorials and 15 video guides, America's Test Kitchen: Let's Get Cooking sounds like a great kitchen assistant for all of you gaming foodies out there. And this time around the book doesn't just walk you through how to cook a meal, it is also meant to get families and friends to gather around a single DSi XL and use the device as a group.
Let's see how well it succeeded.
Loved
The Best of the Original: While America's Test Kitchen has more recipes, and a slew of new features, it is still just an upgrade of 2008's Personal Trainer: Cooking. And that's not a bad thing, especially since many of the original cooking DS title's best functions made it to this latest title. That means you still have video tutorials, voice recognition, cooking achievements, a built-in shopping list and calculator and that slick, easy to use interface.