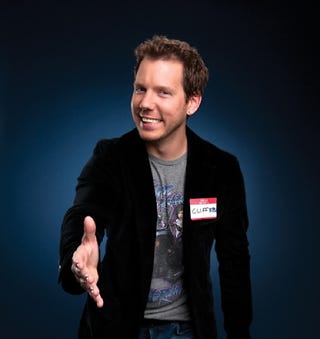 It's a question Kotaku gets a lot: Why do you refer to Gears of War designer Cliff Bleszinski as "Dude Huge". There is a reason. This is it.
For years, Cliff Bleszinski had been known by the moniker "CliffyB". And then suddenly, during the promotions for Gears of War II, either he or Microsoft had an identity crisis and decided that "CliffyB" was out.
This meant that everyone had to learn to spell "Bleszinski".
With "CliffyB" persona non grata, "The Cliffster" was in — that is, until a grammar mistake (I wrote "Dude huge" instead of "Dude hugs" at the end of a post) compelled Bleszinski to write, "I no longer want to be called The Cliffster. I want to be called Dude Huge."