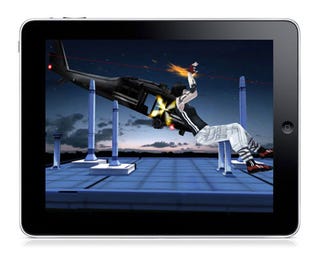 Join Kotaku as we showcase some of the best and not-so-best games available for the shiny new iPad. Check out hands-on impressions for Mirror's Edge, Need for Speed: Shift, Geometry Wars, and more!
Seeing as I am the only Kotaku editor with an iPad, the process of working my way through the twenty-five or so iPad games now in my possession is a long and arduous one. There's some really good stuff here, and then there's just stuff, and it's my job to separate the stuff from the stuff. Mind you these are quick impressions, which you probably could have figured out on your own, considering this is going live on the iPad's launch day.
I'll be updating this post regularly over the next couple of hours, so stay tuned for more, including Scrabble, Plants vs. Zombies, Civilization Revolution, and more!
Latest updates: Glyder 2, Parachute Panic HD, and Pocket Legends for iPad. And that's all for now! One man game-playing army needs a nap.
CastleCraft
Seller: Freeverse Inc.
Price: Free
Genre: Massively Multiplayer City-Building Strategy
The Buzz: It's a fantasy-themed empire-building sim, where you can interactive with hundreds of other players online.
Impressions: CastleCraft is a nifty-little city building conquest game that works quite well on the iPad. Since you need to log into a server to play and your game keeps running while you aren't playing, the device's lack of multi-tasking capability doesn't hinder it, and being able to wander off to do other things instead of staring at the screen while the timer counts down how long it takes to build a farm is a definite plus.
I haven't had enough time to meet anyone else playing yet, so I couldn't test out CastleCraft's more social features, but if a strong community builds up around it, it could be a real winner for fans of this sort of strategy game.



Civilization Revolution for iPad
Seller: 2K Games
Price: $12.99
Genre: Strategy
The Buzz: It's the console version of Sid Meier's classic Civilization, redesigned for the iPad. It's essentially the same as the iPhone version, only with better graphics, better controls, a broader view, and a World/Scenario Creator exclusive to the iPad.
Impressions: What an interesting way to play Civilization! Revolution was originally designed to be a quick and easy version of Civ for the console generation, but now it feels as if the game were made with the iPad in mind. It's like – yes, I am going to do this – looking through a magic window at your creation, touching things and making them do your bidding. The Scenario Creator is particularly impressive, with several pages' worth of options for you to tweak, from resource density to winning conditions.
Just be warned that the game is a bit thick, and not too easy on the newcomer.



Flick Fishing HD
Seller: Freeverse
Price: $2.99
Genre: Fishing
The Buzz: The iPhone version of Flick Fishing sold more than 1.5 million copies, if that says anything. The HD version includes improved graphics, a Brag system, and two packs worth of add-ons.
Impressions: This is a cute little fishing game that's none too complicated. There are several spots to fish, and you'll get requests to catch certain species in specific numbers. Use the casting meter to determine how far you cast out, wait for a fish to bite, and then reel it in with a circular motion on the screen. Simple, inexpensive, and fun, if you're into this sort of thing.



Flight Control HD
Seller: ndWare
Price: $4.99
Genre: Flight Control
The Buzz: Flight Control for the iPhone captured the hearts of more than two million purchasers. Flight Control HD takes the concept and evolves it for the iPad, with larger maps with more room to manuever your planes, eight different single player maps, co-op and split-screen multiplayer, and of course, 3D.