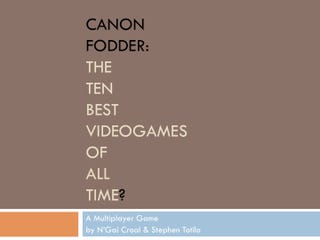 This past weekend, N'Gai Croal and I launched an idea two years in the making: The Best Method Of All Time For Selecting The 10 Best Video Games Of All Time. Or, as we more humbly call it: Canon Fodder.
Canon Fodder isn't just a way of identifying the best games ever. It is is a game. It is the production of an evolving list, changed one at a time, by the best game creators in the world. N'Gai and I have been developing the idea for some time. He runs a consultancy called Hit Detection now. I work here at Kotaku. We were excited to collaborate again, as we had in our Newsweek and MTV days.
For one hour at PAX East in Boston on Saturday, we chronicled the first dozen-plus moves, some made in advance and some made live in front of a standing-room only crowd of more than 600. N'Gai and I hosted the panel, with game designers Chris Avellone, Frank Lantz and Justin Richmond providing feedback and eventually making moves of their own (as would one other game designer in an impromptu walk-on).
This is 10 minutes before the panel started:
This is right before we began:
Mike Fahey liveblogged it for posterity. Here, in one big post, is the list in all of its evolutions up through now.