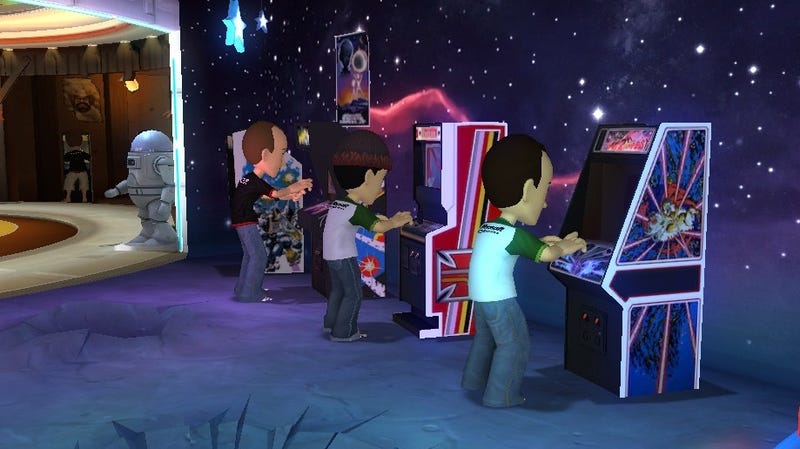 I just got an arcade in my basement. It's two floors of rooms, some themed to my favorite game makers, others made to look like a dungeon castle, a westen theme and even a room straight out of the 80s.
The best part? It all fits neatly on my Xbox 360.
The Game Room launched in the middle of last week, delivering a free arcade to all Xbox 360 owners. But, as with the few remaining real world arcades, to play any of the games buzzing, blasting or plinking away in the mammoth virtual arcade you have to plunk down a quarter, actually two quarters, to play. In this case the quarters take the form of 40 purchased Microsoft Points automatically deducted from your account every time you want to try your hand at a game.
Frank Pape, senior director at Microsoft Game Studios and one of the people behind the concept, said the decision to allow people to pay 50 cents to play a single game was more about trying to stay realistic than trying to cash in on the idea.
"It's really about giving the community choice and we really wanted to stay true to the old arcades," he told Kotaku. "We wanted to give people the ability to play with two quarters, if you will – literally 50 cents or 40 Microsoft Points – and see how long they could last, just like in the old days. Of course, we also wanted to give people the option to purchase the games so we decided on the three 'tiers' of pricing – 240 Microsoft Points (about $2.50) to purchase a game on one platform, 400 Microsoft Points (about $5) to purchase on both Xbox 360 and Windows PC, and 40 Microsoft Points for single play."
The Game Room launched with a "showcase" arcade and the ability to customize and create your own arcade.
Once you drop into the Game Room you move the camera view around your arcade of choice to see the different floors of the arcade, shift between rooms and, finally, hop into a room to look at each game machine.