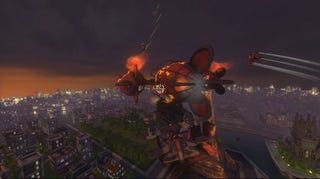 A brief hands-on with upcoming Xbox Live Arcade air combat game Snoopy Flying Ace at PAX East made me realize how badly I missed playing Crimson Skies: High Road to Revenge.
Snoopy Flying Ace, developed by Smart Bomb Interactive, is the follow-up to Snoopy vs. the Red Baron, a dog-fighting (sorry!) game for the PlayStation 2, PSP, and PC. Like it's predecessor, Flying Ace riffs on Snoopy's imagined alter ego, the World War I flying ace, locked in constant battle with the Red Baron.
Slipping into position behind the controller of the Snoopy Flying Ace kiosk at Microsoft's Xbox Live Arcade area of the PAX East show floor, I was greeted by a map littered with icons depicting various missions I could undertake as the famous hound. Lacking guidance from a Microsoft representative, I chose a mission marked with a zeppelin icon, and was plunged into a scene from a stylized World War I.
The famous WWI flying ace was leading a squadron of planes to take out a zeppelin, which was on a bombing run that would take out the base where Peanut's character Schroeder and friends were hiding out. Schroeder gave me instruction, informing me that I had to take out the zeppelin or else.
Not being a big fan of else, I plunged right in. The zeppelin was an odd-looking thing, with brass accents and a fantastic design that immediately brought steampunk to mind. My study was short-lived, however. As soon as I got close enough to attack, the dirigible spit out a group of enemy planes and threw up a shield.
My goal became clear. I needed to clear out the waves of fighters to lower the shield and do as much damage as possible to the zeppelin before the shield went back up.
The task was simple enough. The flight controls, which McWhertor have touched on previously, are simple enough. The control stick maneuvers your plane; two face buttons control speed; the triggers control machine guns and missiles; and the right stick lets you pull off rolls and backflips to evade your enemies.