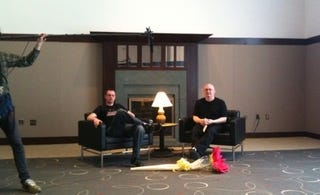 Not everything the men behind the massive PAX East convention here in Boston told me this weekend is true. But most of it was funny and/or illuminating.
Mike Krahulik and Jerry Holkins, better known to the millions of fans of their Penny Arcade comic strip as Gabe and Tycho, have brought their giant Penny Arcade Expo — and a giant flower — to the east coast for the Penny Arcade Expo. Tens of thousands of gamers have paid to storm the Hynes Convention Center here in Boston for a chance to play new games from big companies and indie developers, to attend concerts of Metroid heavy metal and other great genres, to attend panels, play Dungeons & Dragons and celebrate all things gaming.
Before PAX East kicked off yesterday, I sat in a room, far away from Jerry and Mike to discuss PAX East.