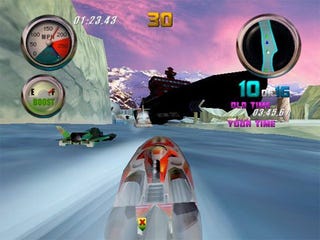 Midway's classic speedboat racer Hydro Thunder may be making its way to Xbox Live Arcade soon. And it may be playable at PAX East even sooner—as in tomorrow.
According to a report from /gamer, the Xbox 360 booth at PAX East features at least one kiosk with a playable copy of Hydro Thunder, indicating an XBLA port of the 1999 arcade original—which saw versions on the Dreamcast, PC, Nintendo 64 and PlayStation—may debut at the expo.
Arcade game specialists Raw Thrills released a spiritual successor to Hydro Thunder last year, with H2Overdrive bringing similar over-the-top, high-speed boat racing to arcades. H2Overdrive was developed by some of the original Hydro Thunder team. No word yet on whether that spectacular looking follow-up is coming home.