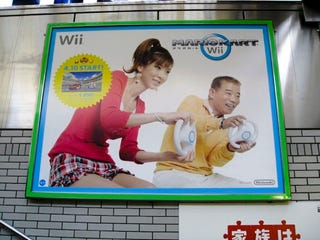 When Nintendo launched Mario Kart Wii in Japan, it roped in some of the country's biggest celebrities for the ad campaign. Among them, was Aki Hoshino.
In a country obsessed with youth, the 33 year-old Hoshino is older than most pin-up models. She's noted for her bubbly personality and her hourglass figure. Rumor has it that she has had her chest enhanced — however, she denies she has ever gotten implants. A "doctor" once did a full body scan of Hoshino and verified this on television. Some woman also squeezed her breasts and said they were real. Experts!
This is an early modeling photo of Hoshino. Yes, something is obviously different. Rather, somethings.
Even when she was appearing in Nintendo ads, at PSP sudoku game promotions or in a Capcom bikini game, Hoshino has always been thin with a small waist as evident by this pin-up photo (above) from a few years back.