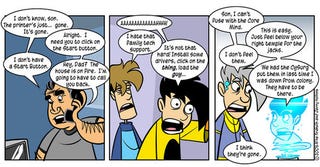 Two weeks ago the inseparable duo behind popular game-themed web comic Penny Arcade received an award for their work as "video game ambassadors", this weekend they'll be earning it... again.
Friday marks the kick off of the team's East Coast expo in Boston, an extension of the popular, often overflowing Penny Arcade Expo held each year in Seattle.
Penny Arcade creators Jerry Holkins and Mike Krahulik liken this latest endeavor, a second convention, to having a second child.
"We're still not 100 percent sure we can do both," illustrator Krahulik tells me, half kidding, I think.
"A third one would be reaching too far," writer Holkins says.
"A third one would be dangerous," Krahulik adds.
"A third one would ruin us," Holkins says.
"We say that now," Krahulik says.
They tend to conduct interviews that way: Finishing each other's thoughts, turning a question into a discussion between the two, often laced with humor and self-deprecation.
It's not surprising given everything they have accomplished together. Popular webcomic Penny Arcade debuted in 1998, written by Holkins and illustrated by Krahulik. What started as a online comic strip updated three times a week on their website eventually lead to an industry under the guiding hand of business manager Robert Khoo. Penny Arcade now runs an international charity that has raised more than $6 million for sick children, an annual expo that last year filled Washington State's Seattle convention center with more than 60,000 people, their own video game and a series of popular books.
Last March, Holkins and Krahulik were honored by the Washington State Senate for their work with fundraiser Child's Play. I caught up with the two earlier this month, just moments before they were ushered into the bowels of San Francisco's Moscone Convention center to receive their latest honorific: A Game Developer Choice Ambassador Award for their help in making the game industry "a better place."
The first thing the two did when they found out they were receiving the awards, Krahulik tells me, was look it up on the Internet. They wanted to make sure, they say, that it wasn't an elaborate trap for the industry to deliver a beat down on the two who have so often held game developers and publishers to higher standards through sharp wit and sometimes cutting comics.
Krahulik is quick to point out that they're only mean to the industry because they love video games so much.
The way Holkins figures it, they were selected because so many of their comics point out the good in gamers and games.
"It's not hard to promote a true thing," he said.
About an hour after our interview, the two took to the stage of the Game Developers Choice Awards, delivering a humorous off-the-cuff acceptance speech of sorts before heading out to the airport to go their separate ways: Krahulik back home to celebrate his anniversary with his wife and Holkins to get to work on Penny Arcade Expo East, due to kick off this Friday.