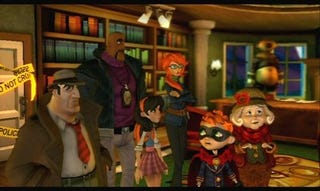 Think of it as Guess Who for the Wii set, or, if you're in mixed company and want to sound smart, maybe Mastermind.
Both classic boardgames have you trying to figure out an unknown variable (a person in the case of Guess Who and a "code" in the case of Mastermind) through the process of elimination and deductive reasoning.
In Disney Guilty Party, you're trying to figure out the guilty party of one of an endless array of mysteries. On its surface the Wideload Games developed title may sound a bit superficial, easy even. But digging into the game last week with the people behind it, I found Disney Guilty Party to be a pleasantly robust game of reasoning and mystery solving... sans the Great Dane.
We talked before about the game's story mode, which has you taking on the role of one of the many members of the Dickens Detective Agency as you travel to a number of settings on the hunt for clues to solve a number of pre-determined mysteries.