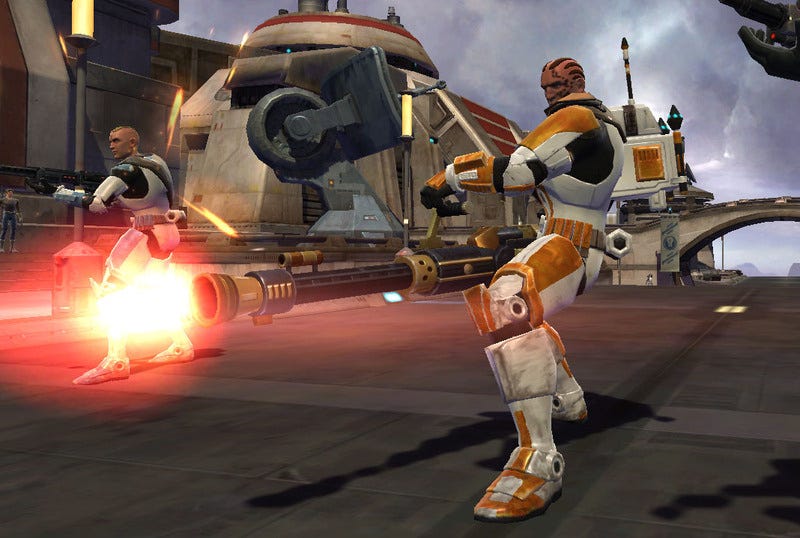 Much has been made about Star Wars: The Old Republic and its "next generation storytelling" driven by volumes of spoken dialog. But what's it like to play the game?
I spent a few minutes trying the game out at E3 last year, but only enough time to get a short taste of the game's controls and graphics.
Last week I headed over to the LucasArts' complex in the Presidio to spend half an hour playing through a selection of missions in the game.
My time with The Old Republic dropped me in the armored shoes of a "rising star" in Havoc Squad, one of the Republic's top special ops groups in the galaxy. The mission started out on the outskirts of Mannett Point, the home of the separatists base on planet Ord Mantell. My mission was to infiltrate the base, meet up with another squad member and work with her to get to a massive bomb before the separatists can use it in a "heavily populated" area.
As with most massively multiplayer games, the session kicked off with me talking to a quest giver, someone who, yes, spoke to me about what it was I was supposed to be doing next in my mission.
The game's user interface would be baffling to anyone not familiar with role-playing titles or massively mulitplayer games. A sizable chunk of the bottom of the screen is taken up with a rectangular patch of icons showing your character portrait, experience points, level, health, power bar and a collection of abilities the player selects for instant use. There's also a minimap, quest tracker, mission logs, and collection of buttons to pop up different screens for inventory and such.
In the case of my Trooper, I had a number of fairly straightforward abilities. Pressing one fired off a single shot, another button had my character let loose with a barrage of fire. I also had buttons for rifle-mounted and sticky grenades and the ability to smack someone nearby to the ground with the butt of my weapon.