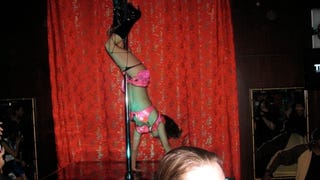 Activision, the company that publishes Guitar Hero and Call of Duty, did not get the memo. The recent Game Developers Conference is not the venue for half-naked pole dancers.
Thing is, GDC is for game developers. Not silly PR stunts.
To promote triad crime game True Crime, Activision turned part of the San Francisco W Hotel into a seedy club, called "Club Bam Bam", complete with stripper poles and dancing girls.