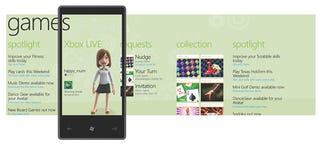 One of the stories I told to a few people at the Game Developers Conference was about the bright idea I had on Tuesday about a psychological trick Microsoft could play, if they wanted to.
I guessed that this company, eager to sell the world its new cell phone platform — and therefore probably convert people who would otherwise be using iPhones or some other devices from carriers not running Microsoft's new service — could hook people to their service by offering them easy Achievements.
The idea sprung into my mind during a Tuesday Windows Phone 7 meeting with Ron Pessner and Michael Klucher, two Microsoft officials who wanted Kotaku to have a closer look at the first cell phone platform that will connect to Xbox Live, run video games programmed through XNA, the same publicly available game-making program that is used to build some Xbox 360 games, and, maybe best of all, support the wildly popular Xbox system of Achievements and Gamerscore.