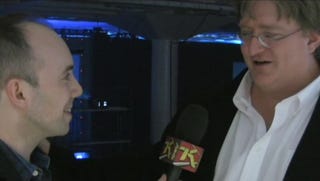 Gabe Newell. John Carmack. The creators of Uncharted 2, Scribblenauts, Farmville. Even Penny Arcade. I interviewed a parade of award-winners backstage at the Game Developers Choice Awards. And I wanted to make sure these post-awards interviews were not dull.
We talked about everything from PlayStation Move and Farmville: The Movie to a major sequel that needs a name and Half-Life 2: Episode 3.
And, with each developer (or Penny Arcade person), we talked some Pokemon. Yes, I was consulting with some of gaming's top minds to prepare myself for a Pokemon challenge that I accepted from a peer of mine at MTV News.
Check out the short video interviews with each of these creators at the links below:
Monaco Award-Winner Celebrates, Warns Of Potential Nut-Kicking