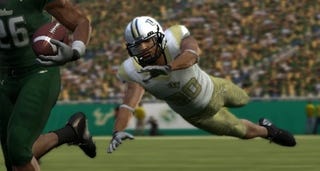 This is heresy to the cults of both sports and video gaming, but I'd really rather gnaw off my fingers at the first knuckle than play a human in either.
This goes back a long ways, longer in real sports than in the computer, of course. On an organized level, my sole team sport has been baseball. My father saw a lot of strikeouts, and I wasn't a pitcher. Oh, I dreamed of whaling an 0-2 fastball, still rising as it cleared the left field fence. (I still do dream of this.) But I was never much more than the guy going 0-3 in practice and still running outfield windsprints as the old man pulled up to take me home.
And so my refuge was the computer sports game. No matter how terrible or afraid I was at the plate in real life, there was always a screen and a joystick and a predictable opponent, the computer, off whom I could easily belt four home runs. That only made things worse. As a 14-year-old in 1988, I had played so much Hardball! before my JV tryouts that I swung at everything, like it was as simple as pressing on a joystick button to swing and make contact. "Jeezy peezy, son, this isn't a video game," said our coach, as if even then he knew I was trying to connect my virtual expectations with the real world.
Twenty-two years later and a continent away in my living room last week, playing MLB 10 The Show, I heard Coach Dillon's voice as I stupidly hammered my thumb on the square button with two strikes against some unknown opponent, trying to rip a miracle home run and whiffing completely. It synthesized two sets of humiliation: the old school strikeout against a human pitcher, and the new era failure of video game play. Trailing 4-0 in the second inning I did the only thing I know how to do in such circumstances: I ragequit, and cursed at how much I loathe online multiplayer. It's like beer pong or bowling; it's something I'm expected to play socially, never any good at, and don't have the time or inclination to practice.
At 36, I scarcely believe I'm the only one, especially at this age, who feels this way about sports games. And the excuses we make, well let's see: The younger kids are more mercenary, more inclined to exploit every weakness than play fairly or realistically. Maybe guys like me want a more persistent experience, rather than a bunch of one-off contests. Or maybe our excuse is we want opponents who behave in a manner more normative to the sports we simulate. Or we want to participate in the realistic re-creation of a professional or high level college game, rather than a matching of skills. And a CPU opponent will provide all of this every day of the week.
And, to the comfort of my tender feelings, will usually be beaten. Trouble is, designers know about these neuroses, and the excuses propping them up are becoming less valid in multiplayer, if they ever were in the first place.
"Back in 2007," said Ben Haumiller, a designer who came to EA Sports' NCAA Football in the following year, "my opinions of online sports gaming was that it was a barren wasteland of gameplay that consisted of the same two or three teams used by every opponent, playbooks stripped down to three plays: All Streaks, All Streaks with a quarterback scramble, and then All Streaks from a different formation."
I went to Ben for a few reasons. One, because he works on the sports sim I enjoy the most, and the one that, on the Xbox, brought me back to console gaming after a decade away from it. And two, he admitted to being an online-o-phobe, like me, but overcame it. And also because American football is one of the biggest drivers of the alpha-dog online multiplayer attitude.
In light of that, this past year NCAA Football did something that, really more than any other multiplayer sports game out there, shot for delivering a more sportsmanlike and realistic performance in the single-game online experience. I know in my review I panned the Season Showdown, in which your efforts reflected not only your performance but that of your preferred school. At first blush it almost reduced football to an after-school special: Show mercy, play fair, don't run up the score, and both you and your defeated opponent will benefit and sing a happy Fat Albert song at the end. But that's seen through the eyes of someone who expects to win.