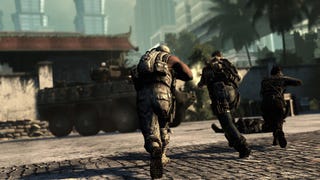 Zipper Interactive has a lot to prove with SOCOM 4.
It will most likely be the first solidly hardcore game featuring the ability to play it either with a standard controller or the Playstation's motion-sensing Move controller.
But that doesn't mean the experience has been in anyway dumbed down to accommodate Move. Ed Byrne, creative director at Zipper, assured me that there is no reason to worry about that. In fact, he said, the game was originally developed for the Playstation 3's standard controller. They later added in the ability to play the game with Move.
Taking the Move controller in my right hand and button-packed sub-controller in my left, I took the game for a short test drive. As McWhertor laid out in his write up of SOCOM 4 with Move, the game uses a thumbstick on the left controller to move around and pointing and aiming with the right to look around and shoot.