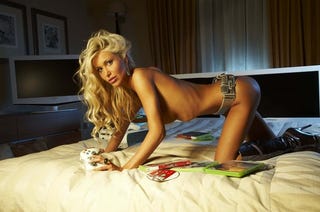 The Xbox 360's online service Xbox LIVE is available in 26 countries. Poland is not one of them.
The service is available to other European Union countries, but it is not officially available to Polish gamers. (Those with broadband connections and American credit cards can apparently get online.) Polish gamers are claiming that as a member of the EU, Poland should be getting the same service that is offered to other countries in the European Union.
Concerns about piracy have apparently held Xbox LIVE back.
For the past six years, Microsoft Poland has talked about the introduction of LIVE. Former Xbox exec Peter Moore said that the service would eventually come to Poland. It hasn't happened. Nothing much has happened! Well, topless model Ania (pictured) promoted Halo 3 in Polish lads mag CMK (think Maxim) — a game noted, ironically, for its online play. Oh, there was a Master Chief balloon, too. Neat.