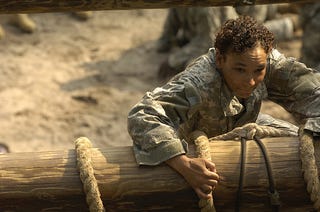 Women have been serving admirably in warzones for the U.S. military for years. But they're absent from the ranks of modern video game armies. A game developer offered Kotaku a justification of why we virtually fight as men.
The answer, offered by Gordon Van Dyke, producer of the new Electronic Arts modern warfare game Battlefield: Bad Company 2, has to do with technology. Or, more specifically, it has to do with technology needs trumping any sense of consumer demand for representation of both genders.
Programming women soldiers into a virtual war just might not be worth the costs to the game and the servers that connect the people playing it.
The topic came up on last week's Kotaku podcast, when I asked Van Dyke if there were women in Bad Company 2. I'd noticed that the games I'd played set in modern or near-future settings were almost always fought by men and men only.
"There's no girls in our game," he said around the 33-minute mark.