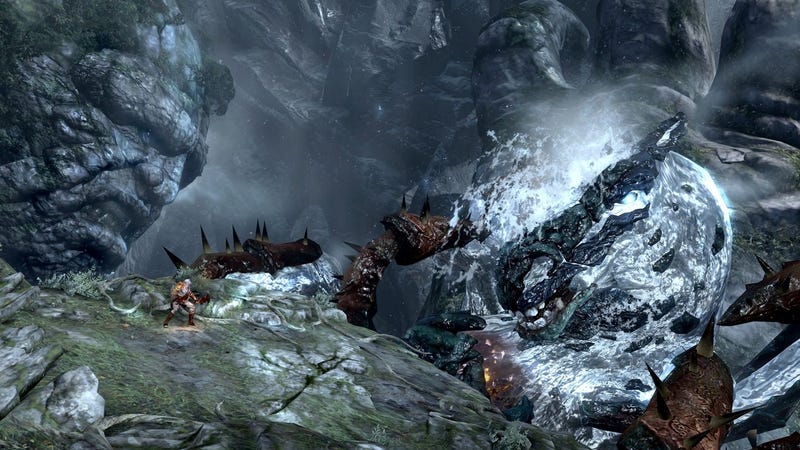 The final chapter in Kratos' story of revenge, better known as God of War III, begins precisely at the moment we last saw the very angry Spartan, on the back of the Titan Gaia as she climbs Mt. Olympus.
God of War III does not throw the player directly into battle immediately from the "start" screen, as previous demos have. Instead, we're treated to a short cinematic that starts with Kratos snapping to no one in particular—"My vengeance ends now!"—and a pre-rendered, Zeus-narrated intro, one that should get God of War fans back into the god-killing revenge swing of things.
You'll be introduced to many of the bad guy gods you'll face on the climb to the peak of Olympus—Hades, Helios, Zeus, et al.—as they stare down at the encroaching Titans, but it's Poseidon who makes himself your first target. The god of the sea leaps from the mountain's highest point, turning himself into a watery missile, smashing into the sternum of one of the Titans, plunging it into a body of water below.
Watery tentacles shoot forth from the spinning whirlpool in which the Titan fell, bursting upward, snatching Titans from the sheer face of Olympus, and grabbing Gaia, stopping her climb.
(Now, everything you'll see in God of War III will be rendered in the game's engine, says the game's director Stig Asmussen. Those pre-rendered moments will look and feel just like the game's playable portions, with no fancy lighting tricks or post-processing trickery pasted on.)
So begins God of War III's gameplay and, as previously noted, one of the game's wildest moments. As Gaia struggles with the watery tendril that has ensnared her, Kratos must dispatch a group of undead underlings, an opportunity for players to re-familiarize themselves with the Greek god's twin arm-blades.