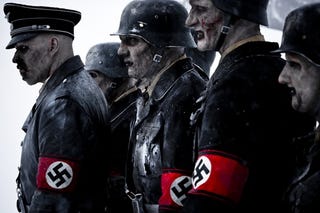 It was a week infested with zombies, Nazi zombies and micro-reviews, the smaller format reserved for Kotaku reviews of downloadable video games and downloadable game add-ons. It was also the week that featured our first massive-review.
That would have been Mike Fahey's review and four week long log of massively multiplayer online role-playing game Star Trek Online, our first experiment with a new review format for games that are harder to judge in just a few days time. What do you think? Was it informative?
Get caught up on all our little reviews of big game expansions and at least three reviews that reek of the undead in this extended Kotaku review round up.
Link 'N Launch Micro-Review: How About 'Pikmin Rockets' Or 'Better Than Bioshock Hacking'?
In which Stephen Totilo finds the connection between a DSiWare game and Princess Zelda's venerable rescuer rather puzzling and un-Intelligent Systems.