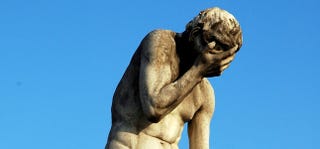 It's a terrible thought to ponder. But it could explain why other people play video games you are certain stink: Maybe fun isn't the key ingredient that makes people love video games anymore. Let's hear it for... shame?
Every year in mid-Winter, top game designers and executives gather just outside of Las Vegas at a resort hosting the DICE Summit to discuss the Next Big Things in video games. Mix excitement with money and drink. Combine easy access to gambling with an ever-present whiff in the air that people don't always acknowledge. The whiff smells like doubt, anxiety that maybe all these creative or powerful or creative and powerful people might be doing it all wrong.
Some years, the idea floats that maybe everyone should be pulling a Wii and making games that families can wave their arms to.
Other years, you best not take the stage to talk at DICE without signaling that you're making a massively multiplayer game or at least open to the idea of it. If you can mix it in with a reality TV show, all the better.
Never before has anyone snuck in the suggestion that maybe you should do something that gets gamers worried about being humiliated. This year, that idea came up: Fear of embarrassment as the thing to keep a player playing a game.
A New Way Of Pulling Gamers' Strings
We all know our strings are being pulled when we play game, right? We are being manipulated, with rewards of points and Achievements dangled in front of us. We are wooed, I thought during the many years I've played games, by the promise of fun. The joy experienced in the games we think are best is as delightful a lure to us gamers than the smell of a chef's fine cooking. For those of us who play games rather than make them, the idea of someone designing a video game so that it keeps us playing by exerting social pressures on us can't go down easy. Wasn't high school trauma enough?
So it was at DICE that this style of video game crept not just into the conversation but was presented as the most important element to the most successful video game of last year. Oh yeah, therefore it was the one that maybe the rest of the video game industry should consider copying.
At the summit this year, you needed to acknowledge that Facebook gaming is huge. Mafia Wars. Playfish. And, of course, FarmVille is the thing — the game. It has, speaker Jesse Schell said, more players than Twitter has users. (Beyond Facebook gaming, he added, is the future of winning points for brushing your teeth and showing up for work on time, but that's another story.)