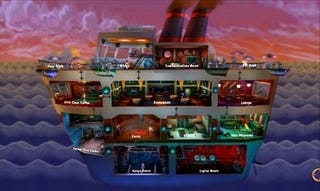 Wii owners who have suffered through countless me-too mini-game collections and lame party games often consider the term "family-friendly" the kiss of death.
But Wideload Games (Stubbs the Zombie), the studio recently acquired by Disney Interactive, is aiming to erase that stigma with Disney's Guilty Party. The new, er, family-friendly entry is a who-done-it mystery game that takes its inspiration from old school Scooby-Doo cartoons, boardgames like Clue, and even procedural crime dramas such as CSI.
Supporting up to four players, Guilty Party stars a family of super sleuths. The colorful cast of investigators, from the trench coat-sporting Columbo type to the Murder She Wrote-like grandma, are packed with personality.