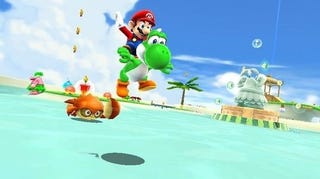 Super Mario Galaxy 2 returns Mario to the Wii-defining universe of Super Mario Galaxy now armed with new power-ups, new friends and... a drill?
Just as Super Mario 64 redefined the classic platforming franchise for the Nintendo 64 generation, Super Mario Galaxy delivered the game-changing goods to Wii owners.
While what we'd seen so far of Super Mario Galaxy 2, due out May 23, looked very similar to Mario's physics-bending current-gen hit, we were more than happy to collect coins, stomp Koopas, and save Peach all over again in the sequel. It seems, however, Nintendo's well aware of the pleasant, but very apparent whiff of familiarity wafting off their upcoming sequel, as they recently went out of their way to demo the title's fresh-rather than familiar-features.