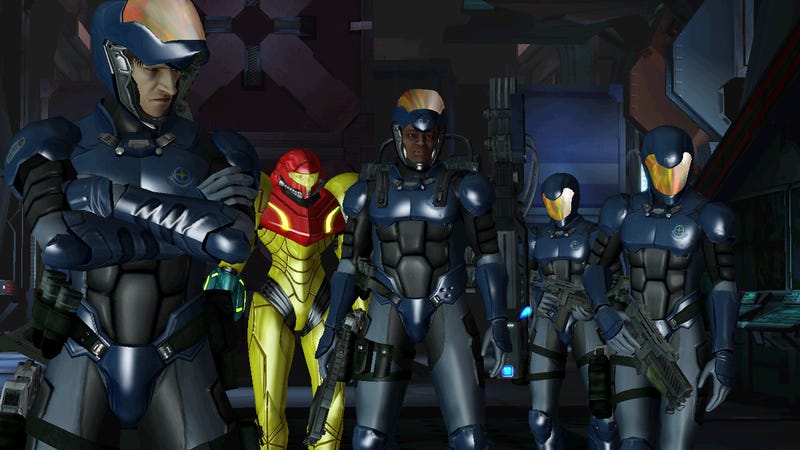 Team Ninja's take on Metroid doesn't just give the game a new look, it changes Metroid's entire perspective, literally, and gives voice to a heroine we've never really heard speak.
Following ten months of near-total silence on Team Ninja's feverishly anticipated Metroid: Other M, I finally got to strap on Samus Aran's arm cannon and peer from behind her green visor today.

The Metroid: Other M demo began with a story-heavy cinematic that immediately hinted at the game's more narratively rich focus.
Samus, suspended in the air by baby metroid, is facing Mother Brain-looking far more menacing than she ever did in her 8 bit days. Assisted by the mini metroid, Samus lets off a killing blow before narrowly escaping. We flash forward a bit to a medical ward where Samus is recovering, and we learn planet Zebes, Mother Brain, and Samsus' "nemesis" Ridley have been destroyed. In a dramatic change for the series, most of this exposition is delivered by the usually silent Samus. Her extremely feminine voice-not to mention her busty Zero Suit frame-could have fans, fearing Team Ninja's tendency to sex-up their female leads, crying foul, but the approach did inject more personality into a character we've been dying to learn more about.

Following this set-up the game begins proper, as Samus (and I) are walked through a tutorial not unlike those presented to Master Chief at the start of the Halo games. The basics of movement and combat are learned in an arena-style room. The biggest surprise here are the controls themselves; only the Wii's remote (no nunchuck) is used to complete Samus' latest bounty hunting quest. Held horizontally like an old school NES pad, Samus is controlled by the D-Pad, firing is mapped to the 1 button, jumping to the 2 button, and morph ball action to the A button. Holding 1 also unleashes a more devastating charge shot. In an even more surprising turn, and one that'll surely please Prime fans, pointing the Wii-Remote at the screen shifts the perspective to first-person. From here, players can scan objects, lock-on targets, and fire missiles.

The shift from third- to first-person perspective works pretty seamlessly. It takes a bit of getting used to, but it's not nearly as jarring as you'd expect.
Let loose in a space station, cluttered with the expected corridors, vents, catwalks, and other metallic structures that "clanked" nicely under Samus' heavy boots, I was able to experiment with the unconventional controls. Taking out spiky wall-crawling baddies and winged beasts was a breeze in third-person mode, although the directional/assisted targeting hybrid was not always spot-on. And scanning items in the environment felt much like it did in the Prime games; Samus remains stationary as you move the camera with the pointer and lock-on vital items with the B button.

I got a much better feel for the mechanics when faced with challenges that required both modes.
During an early boss encounter, where a purple-people-eater-like enemy erupted from an infected corpse, I was tasked with strategically switching between the two perspectives.
While acrobatically avoiding the alien's enormous limbs, a group of Galactic Federation Army soldiers - working with Samus in this particular mission - temporarily froze its death-dealing appendages. This was my cue to switch to visor mode, lock-on the enemy, and unleash a tentacle-severing missile blast.
A later battle - without my GFA back-up - saw me employing similar tactics; in a small room, two hives continuously spawned flying enemies. I needed to swiftly keep the buzzing nasties at bay in third-person mode, but also shift to the visor mode to destroy the spawn points with missiles. Both battles offered only a hint of how the two perspectives will be used individually and cooperatively, but the potential for engaging and dynamic alien-thwarting and puzzle-solving is definitely in the cards.
While they weren't utilized much in this brief hands-on demo, I also got a glimpse at some of Samus' other trademark moves. Tooling around in her morph form while dropping bombs will feel instantly familiar to anyone who's ever shown a Space Pirate the business end of their arm cannon, and wall-jumping is equally intuitive.

Visually, Other M looks impressive enough, although the limited environments shown in the demo really didn't let it shine beyond the tried-and-true space station backdrops.