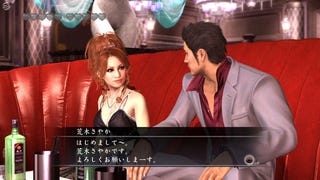 Yakuza 3, the crime drama from SEGA, is finally coming to the West after being released in Japan almost a year ago. The game will have subtitles. That's not what SEGA is screwing up. This is.
"The content between Yakuza 3 US/UK and Yakuza JP is a little different in that we took out certain bits in order to bring the game to the west in the time allotted for us to do so. The parts we ended up taking out were parts that we felt wouldn't make sense (like a Japanese history quiz game) or wouldn't resonate as much (such as the concept of a hostess club)," SEGA told website IGN. "We didn't replace the parts we took out, but we made absolutely sure that the story continuity stayed intact so that the story experience was the same as the Japanese version and that it didn't take away the human drama so inherent to the Yakuza series."
The entire appeal of yakuza for Japanese players is that the game is a peek into the criminal underworld. For Westerners, this appeal is compounded: the game is not only a tour of the Japanese underworld, but a tour of Japan as well. Japanese history quizzes might be difficult for players who do not understand Japanese history. But SEGA has unilaterally decided that a hostess club would not resonate with Western players.