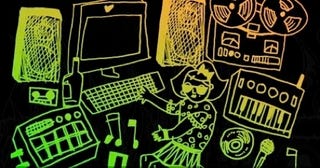 Over at the blog Dubious Quality, Bill Harris has been spotting some dots and trying to connect them. The picture he's got is of Activision making a play for MTV-owned Rock Band studio Harmonix, something that is pure speculation.
Harris notes recent comments from an MTV person saying the Rock Band vs. Guitar Hero format war is not something consumers want. Then he rolls us into an EA earnings call, quoting EA's John Schappert, saying their deal to distribute Harmonix's Rock Band games expires at the end of EA's 2011 Fiscal Year (Harris does miss that Schappert was corrected by EA boss John Riccitiello, who said that the deal expires at the end of FY 2010, meaning the end of March of this year. Riccitiello said he hoped the relationship could continue.
And then there's Activision boss Bobby Kotick saying last week that maybe Activision should have partnered with Harmonix, not shunned them.