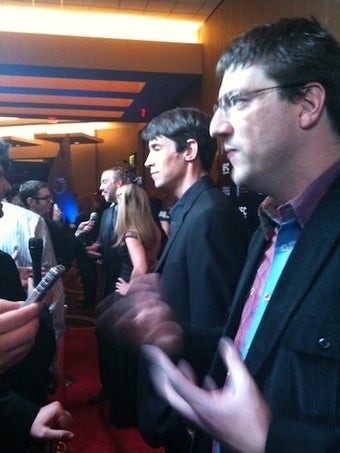 Attention, Joan Rivers. Heads up to the E! Network. Pay attention, producers of the upcoming Academy Awards pre-show. I am about to show you how to do a Red Carpet right. Because everything is better with video games.
Last week, I consented to perform what I believe is the lowest act of journalism practiced in America. I agreed to work a spot on a red carpet. I had agreed to stand on the non-carpeted side of a red velvet rope and grab my five minutes with each person who traipsed down the carpet.
I said yes, but I vowed I would not be a cliche.
I would not ask people what they were wearing. I would not ask inane questions about how it felt to be nominated, nor would I flatter anyone by telling them how good they looked.
Some of these pitfalls were not hard to avoid, because my red carpet was the red carpet for the Interactive Achievement Awards. A video game awards show. My kind of people would be walking down this aisle, video game people, people who might not have much to brag about what they're wearing.
On Thursday night, at the Red Rock Casino before the 13th iteration of these awards, I took my position, sandwiched between Wired's Chris Kohler and freelancer John Gaudiosi, standing about midway down the length of velvet rope on top of a piece of paper marked "Kotaku.com."
I had my DS with me, because I wasn't going to ask these people many questions, not if I could help it. No, I was going to play a video game with these people, a who's who of video game designers. Each designer would get one try to play before moving on.
My game would be Scribblenauts. It was almost chess, which I figured I could play one side of, allowing these world's finest designers each a turn to contribute a move to the opposing side. But chess is not really a video game. Neither, technically, is the menu screen of Scribblenauts — a virtually blank canvas upon which any concrete nouns you type into the system will -poof!- be rendered on that screen. But Scribblenauts would at least allow me to do something quick and easily comprehensible with these designers.
Each developer would give me a word, contributing their noun-turned-virtual-object/being to the menu-screen landscape of the game. What strange menagerie would these people make?
What would a session of a game played by a dozen or more of the world's best gamemakers in rapid succession be like?
1) Denny Thorley
First up was the tall, bald Denny Thorley, president of Day 1 Studios and a day one guinea pig for my experiment. I explained the concept and ventured into the start screen of Scribblenauts, which was populated just by a boy named Maxwell, some land and a blue sky. Thorley requested a "football." And so it was that a football appeared next to the boy. That was it. I ushered Thorley along so he could answer someone else's questions. I was done with him.

2) Don Daglow
Next was a white-haired fixture of these video game red carpets, the affable Don Daglow. He is credited with making the first baseball video game and was one of the first Intellivision programmers. This gaming veteran eyed my experiment and requested a "car." A car appeared, as inanimate as the football. Slow start. But, Daglow said, he would tell me the story of this game: "They are going on a big long drive, a drive to the football game!" (Like a drive to the end zone, get it?)

3) David Adams and Tim Campbell
Two of the guys who run Vigil Games were next. They had just released Darksiders and, perhaps because I was beginning to doubt the entertainment value of my experiment, I actually asked these guys questions. That was a whole other kind of silliness. I think these guys had played Scribblenauts before, because when it came time to play, they asked me to summon Cthulhu. The winged, bipedal Lovecraftian monster appeared and began waving its clawed hands at Maxwell. The Darksiders guys had just made my experiment interesting.

4) Randy Pitchford