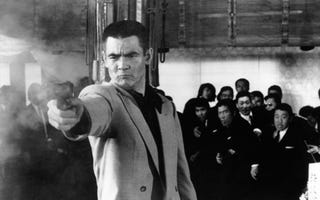 In early February, Grasshopper Manufacture had a surprising announcement: Silent Hill composer and producer Akira Yamaoka and Doshin the Giant designer Kazutoshi Iida joining the studio.
Yamaoka didn't just leave Konami, but he also left behind a long legacy of both game sound work and producing. Iida is an industry journeyman. By joining Grasshopper, they are both entering new stages in their work.
After being at Konami for over-ten years, Yamaoka told Kotaku that it was "hard" to leave because he had to find people at Konami to take over what he was doing. Yamaoka was best known for his Silent Hill scores and his producing work on the series. Now that he has left Konami, Yamaoka leaves Silent Hill as well — a move that he says is "half sad and half not sad". "But if the team of Silent Hill asks me to work on the title," he adds, "I would like to provide brutal music for them."
While it has been revealed that Yamaoka will be working on the horror game Grasshopper is developing for Electronic Arts with Shinji Mikami, it also sounds like there are more projects on the horizon. "He will work on all our titles," Grasshopper boss Goichi Suda told Kotaku.