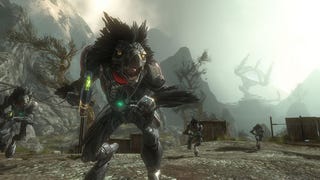 When Halo 3 hit in the fall of 2007 there were celebrations, sick days and sales records broken. Two years later, when Halo sequel ODST made it into stores it couldn't match its predecessor's first day sales in two weeks.
So I asked the Bungie folks, is Halo Reach going to be more like a Halo 3 or a Halo ODST?
Before answering Brian Jarrard, Bungie's community director, gave me his take on why ODST wasn't the overwhelming success Halo 3 was.
"I felt ODST was more of niche game, it was a little bit of an experiment," Jarrard said. "We didn't have to stay tried and true to the Halo formula."
The games of the Halo trilogy, Jarrard says, were defined by alien worlds, big expansive environments and exploration. ODST didn't have much of any of that. You could explore a human city, but as a whole the game was a bit more conventional with less of a science fiction feel.
"We never expected any of the Halo games to turn into the phenomena that they are today," Jarrard said. "ODST was of a different scale. We were kind of flattered that it turned out to be as big as it did, that there were stores opening at midnight. That was never in the cards when it was being conceived."
But what about Reach, Bungie's final, and they say, best Halo experience?