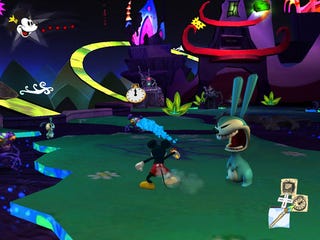 No, the head of Disney's gaming division wasn't taking the bait and announcing Kingdom Hearts 3 here at the annual DICE convention near Las Vegas. But he did tell Kotaku that franchise paved the way for another big Disney game.
"It forced us to challenge assumptions," Disney's game studio chief Graham Hopper said of the blockbuster series that mashes up Disney and Final Fantasy characters. Hopper recalled that, years ago and before he was working at the company, there were people at Disney who had said the game "was an abomination." But fans loved it, not minding its mixing of worlds and instead cheering it to great success.
Hopper pointed to the current sales success in Japan of the latest Kingdom Hearts, the PSP's Birth By Sleep. "That franchise is alive and its doing very well," he said.
And its influence on Disney's growing game-making ambition?
"If you look at nothing else, you can look at Disney Epic Mickey taking the characters and showing them in a surprising way," Hopper said. Epic Mickey, the forthcoming Wii Mickey Mouse game from renowned game designer Warren Spector and his Junction Point Studios, puts Disney's lead mascot in a darker steampunk-influenced world, facing off with forgotten character's of Disney's earliest cartoons. (See Kotaku's extensive Epic Mickey chat with Spector)