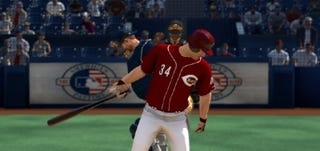 Although hardly a shock, the demise of the NCAA Basketball series is still on some level surprising. It's a publisher with an uncontested, major team sports title throwing in the towel, after all.
NCAA Basketball was not a poor game, but nor was it exceptional, and as such it didn't have either the sales figures or the motivated community to save it from the firing squad. But one thing I can't get over is the feeling that sports gaming is in, if not its own recession, a rather stark period of contraction.
Look at what's been cut going back to 2008, when 2K Sports walked away from NCAA Basketball by discontinuing its superior College Hoops 2K series. Later in that year, EA Sports BIG effectively vanished. It had been a source of spinoff titles like the NBA and NFL Street series but hasn't produced anything since 2008. Then last year, EA Sports confirmed it was no longer developing its NASCAR series, which ended in 2008 after a 12-year run. There are also serious questions that 2K Sports will continue its NHL series. It's confirmed nothing.