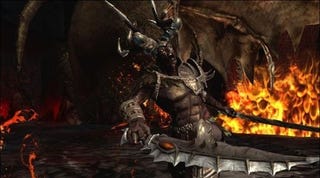 While religion and an allegorical journey through a medieval hell remain the central themes of the video game adaption of Dante's Inferno, an exploration of love and lust and what separates the two is nearly as important in the game.
In both works, Dante Alighieri comes across different relationships in hell that ended poorly, from the lustful Cleopatra and Mark Antony, to the adulterous Francesca and Paolo; even Helen of Troy, the face that launched a thousand ships, has her spot in hell.
But in transforming the 14th century poem into a mainstream Playstation 3 and Xbox 360 title, developer Visceral Games overlaid a straightforward tale of love lost and a woman in distress upon the original work's gruesome descriptions of hell's seven circles.