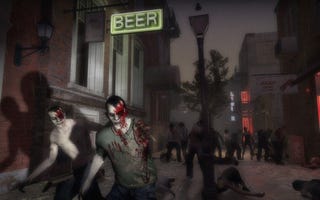 I wasn't able to spot one of the new "fallen survivors" of Left 4 Dead 2's upcoming map pack, The Passing, but I did find one of its new weapons, a monstrous machine gun.
I grabbed it while playing through a chunk of the second map, tearing through zombies with abandon until I burnt through the weapon's ammo.
Left 4 Dead 2's March-scheduled three-map add-on, The Passing, picks up after players in Valve's hit sequel escape Liberty Mall in Jimmy Gibbs Jr.'s car. There is, Valve's Chet Faliszek tells me, a moment when the cast of the original Left 4 Dead runs into the cast of Left 4 Dead 2 at the opening of the first map.