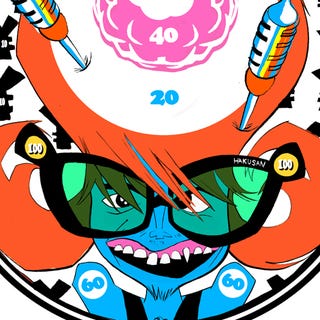 We can't all be rock stars. Or can we? Why can't we all be rock stars? Who says we can't all be rock stars?
"They" say we can't all be rock stars. Who are "they"? Who knows?
Then we have the people who say they don't want to be rock stars. They say they'd rather lead a simple, calmer life.
Maybe a lot of this depends on your definition of a rock star. When some people hear the words "rock star," they immediately think of the smoke and flash of a mega-huge arena show featuring some aging five-piece band containing an entire city bus capacity of luxurious hair. They think of screaming groupies lined up along a velvet rope, or combusting fans waiting just beyond the security checkpoint at the airport. They think of internet shrines devoted even to the least incredibly popular member of the band. Maybe, sometimes, they think of the bad things, like cocaine, or dying on a toilet.
Really, though, all there is to actively being a "rock star" is that feeling Ian Brown of The Stone Roses had when he wrote the song title "I Wanna Be Adored." It's possible that you might accidentally become a rock star, in that you might find everyone around you adoring what you do. Maybe you're a rock star at something you don't like doing. Well, that doesn't work. Let's be romantic, here — it is the internet, after all — and say that, in the basic every-day-life-living sense, being a rock star implies that you "achieve the adoration and respect of others for doing something that you love doing". This is a pretty nice way to summarize it, because it also implies that "rock stars" who don't enjoy making music anymore are not, in fact, real rock stars. It's also a pretty nice summary because it allows for unspeakable thousands of grades of rock star: you can love cooking, and your husband or wife can respect and adore you because he or she loves to eat the food you make, and that's good enough to qualify you as a rock-star cook. However! We have an "if and only if," and this is where it gets tricky: if you love cooking and your husband or wife respects and adores you for cooking, this is enough to qualify you as a rock-star cook if and only if one person loving, respecting, and adoring you is enough to make you happy.
Hello. This is the sixth paragraph of this article, and the one where we'll start talking in present-tense: It's me, and I do believe this column couldn't possibly be complete without
A LONG ANECDOTE IN WHICH I COME ACROSS AS SOMETHING OF A JERK
Just imagine I'm writing all this with the following emoticon on my face: :-3
I've been in maybe four hundred and sixty-five failed bands in my life. The bands have all failed for a plethora of reasons so plentiful that we can't really blame any single one of them; what's worse, the reasons have overlapped and recurred so many times, at this point, that we can't even begin to think about blaming all of them. Maybe the solution to the riddle "why did all those bands fail?" is the same as the solution to "why are my biceps so weak?": genetics. Or maybe it's "my arms are too long." Or maybe it's just me. If we're lucky, we have less than one experience in our lives where, maybe sitting in our car, maybe stopped at a red light, maybe cruising at a hundred miles per hour down a barren highway, it dawns on us epiphany-like, and we utter with our minds' mouths the defeated mantra: "Or maybe it's just me."
It could be other peoples' fault, of course. It's always easy to blame other people, because that way you avoid the "Or maybe it's just me" moment. This is a difficult issue, and I feel like I'm making ill fun of the entire human race by not writing a two-thousand-page book in which I present a foolproof solution. For now, I'll just say that, at the end of the day, I arrived at a half-formed conclusion that my bands weren't working because we just couldn't get together a group of people with the same exact ideas, nor could we get together a single me that wasn't willing to compromise his own personal ideas. Ever since my first attempt at having a band, I have marveled at the stories of how famous and/or awesome bands got together. More often than not, they just happen to find each other. Lots of times, the guy playing drums didn't even play drums. He played guitar, and he just naturally happened to be able to play drums better than the other guitarist or bassist could. Lots of times, you have a member of the band deciding to put his own ideas on hold and "just play along" with these other goofs, because he knows that if he does that he'll possibly find financial freedom. Paying one's dues in the context of self-expression is a weird, speckled beast. Or maybe I only think this because I'm something of a jerk.
I played drums in some bands; I played bass in a couple of other bands. At the beginning, what I really wanted to do was write the songs and sing them. That's hard to do when you can't play the guitar, or as the guy who "just plays bass," or as the drummer. It's almost as hard to write a song as a nobody with a pretty average singing voice — and to convince some guitarist with years of experience writing his own songs — to try to play along to your singing as it is to drum and sing speed metal at the same time. And I don't mean with one of those headset microphones. Those suck. I mean with your head stuck at a strict angle, microphone suspended right in front of your mouth. It's weird, starting out with a band past, say, the age of eighteen. At age sixteen, you're just killing time. Why do you think so many fantastic songs have come out of young people? I used to be very quick to moan and/or groan every time someone said that rock music is an art for the young people, because it was my opinion that young people have nothing to say, and we should rather trust people with experience in the world. The problem, I suppose, is that not every world-experienced person in the world is as thoroughly, damn-near-genetically immature as I am. I sang in this hardcore band once, a long time ago, when I was a little older than eighteen, and these guys were talking about the eventual album and which labels we should "set our sights on" right from the first practice. It was creepy as hell. The band didn't work. Maybe it had something to do with my wanting some of the vocals to sound kabuki-like and ghosty, and them thinking we should just "play it straight" and sound indistinguishable from everyone else. (The second part of that sentence will be very important later.)
Well, eventually, I found that the best solution to my problem with The Things That Dumb Jerks Think, Believe, and Say was that if you eliminate the dumb jerks, eventually you don't have to hear what they're thinking or saying. A friend from one band had given me a guitar, which I hesitated to learn how to play, because of how much time I figured it would take, until I was twenty-seven years old. The longer you wait, the longer it feels like it's going to take. So one day I was at work in a Big Corporate Office, and the jerkoff who sat next to me — I mentioned him in a column before; he was the guy who started smoking on his first day in the office because everyone else smoked, and he vomited water all over the carpet outside the smoking chamber — delighted in revealing to me "The Password": this simple six-digit password would, from this day forth, be required to unlock password-protected spreadsheet files. "Okay. Uh. Thanks for that," I said to him. Then he informed me that, from this day forth, all in-office communication would need to be conducted inside password-protected spreadsheets attached to blank email messages: "for security purposes." That just about put me over the edge, man. An email popped into my inbox. It was blank. A spreadsheet (titled "spreadsheet 392", meaning that the sender of this message had literally made 392 untitled spreadsheets in his career at that office) was attached. I opened it; it asked for my password. I groaned. I entered the password. One cell squinted at me out of the upper-left corner. I could read a couple of Japanese characters in it. It didn't seem to say anything aside from "We." I stretched the cell out, revealing the full message: "We're thinking of going to the Korean place for lunch." I tell you, the second I got home, I ripped that guitar out of the closet with all the tenderness of a man removing his new wife's wedding dress once the hotel door is locked. I was like, "Enough of this shit". I was like, "Enough of this shit" every day for, like, a whole year.
Eventually I decided to convince some poor guy into pounding some drums for me. It was like walking through a revolving door; I stayed in the door, just doing dozens of hundreds of laps, while other dudes walked in and out. I realize I could have done this with a metronome. This is crucial: I liked having the human element. I ran scales with a metronome for weeks, and did all the finger exercises and what have you. I realized that I learned Japanese by just immediately forcing myself to choke down entire manga, kanji and all, until finally I understood anything; beyond finally, I understood everything. Plenty of people have called bullshit on my claim in the past. Is it really that hard to believe? Well, with the guitar, I played scales at home every night, then, on the weekends I got a friend to play drums. It was like the grown-up equivalent of playing dress-up. Well, I, anyway, wanted to actually make a real band, at some point. My fear was that if I ever invited a "real drummer" to play drums for me, he'd be so disgusted with my lack of skill that he'd just get up to "go to the bathroom" halfway through our one-hour try-out session and just go home, so eager to get away that he was willing to leave me his wallet, his phone, his bag, his whatever, right there by the drum stool. Well, I met this dude at a BORIS show. He told me he played the drums. I was like, oh, okay. He seemed like a good enough dude; I figured that's what he was. Well, it turned out he actually was a real drummer, and somehow, he didn't hate me after I plugged the guitar in and played a chord.
A few months after our first practice, we were on TV in France (this happens to a lot of bands who intentionally sound like shit and enjoy themselves); shortly after that, we were playing a show at The Biggest Party in Tokyo. I'd played bass or drums or sang in front of more people than that first night we played The Biggest Party in Tokyo, on many occasions. However, this was different: I was playing the guitar, and singing. And because there was no other guitarist, or no bassist, it was like, if I messed up, it would be all my fault, and if I ruled, it would be all my awesome. I mean, to clarify, there was no chance the drummer would mess up. It just isn't something he does. He's the kind of guy whom people see play drums and then casually ask him after the show if he's been shot before. You know, with a gun.
We were given a total of maybe three minutes before the set to sound check. The only decent-sized Marshall amp in the place was suffering from a blown everything; the only other guitar amp was a Roland Jazz Chorus, also known as the Worst Amp Ever. One of its speakers was so fried (in what way, I could hardly imagine) that it produced a constant grain of feedback every when nothing was plugged in. In addition, it electrocuted me when I strummed my guitar to check the tone. My two hands were dead with terrifying, funny-tasting numbness for the duration of the performance. Then we had the no-stage-monitors issue. This meant we couldn't even hear ourselves when we played. God, what a nightmare. All the lights in the place went out except the red ones pointed right at us. The lights didn't blink or strobe or anything. We just baked there like rotisserie chickens while we rocked, blind and deaf, noses pressed against a hungry black hole.
I don't know how we sounded. I couldn't tell you, because I couldn't hear shit. I guess we did okay. When each song ended, people were making noise, or at least I could almost make out people-noise over the sound of amp feedback.
Prior to this night, we'd maybe been satisfied as a group of a couple of self-styled jerks that made some noise, plucking the guitar and yodeling and banging some pots. The thing is, no human being, really, is a unique snowflake, so chances are, if we liked something, someone else likes it, too. The guy who runs these massive parties happened to like it. That's great! That's a real case of putting a nickel in the slot machine and getting a jackpot on your first pull.
People pay the yen equivalent of about fifty US dollars to get into one of these clubs. That's the price of admission to a place where everyone dresses like you (by "dresses like you" I don't mean they wear the exact same clothes; I mean that they see clothing as a way to express themselves in a unique way) and enjoys roughly the same kind of music. The real stars of these parties are the people who always show up. If I started talking about the precise degrees of coolness of the people who show up at these parties, I'd literally never be legally permitted to finish. Let's just say they're so cool that when they sleep, sheep count them. The other stars of the party are the DJs. In addition to ensuring that no conversation happens, in addition to preventing the event of someone getting laid because they have a nice personality, the DJs also put on music they like, so that people in the audience can like the music, too.
My mild case of social ineptitude maybe qualifies me to find this interesting. People seem to like only one thing more than being exposed to new music by people whose taste in music they trust, and that's songs that they already know they like. A talented DJ is able to remember what songs the audience members like, and make sure that don't play these songs all in a row, one right after another, lest everyone walk out and go home. People who go home are perfectly free to open the cupboard and just drink whiskey straight out of the bottle until they pass out; people still in the club have no right aside from the right to pay eight dollars for a drop of vodka in a bucket of water. The way it usually goes with clubs in Tokyo, where food and drink at regular convenience stores are already priced on par with world-class theme parks (we call this "finger-and-toe expensive"), is that drinks at clubs are so stupidly expensive ("arm-and-leg expensive") that you'll see a crowd of like-minded, like-fashioned kids swarmed around the convenience store across the street slamming maybe six beers each. Some people want to stay in clubs to keep drinking; some people want to stay there to listen to music. The 3,000 yen cover charge has been carefully calculated to weed out the majority of skeezes who just want to get laid (you end up with only the reasonably successful people who want to get laid (this will be important later, though I won't mention it again)). In short, as a DJ, you keep people in the club by mixing up music that people already like with music that sounds enough like the music that people already like to make them think, "Hey, I like this, too." This prevents them from leaving, which increases the probability that they'll buy another drink. The patrons' self-discovery eventually (possibly) manifests itself as profit for the establishment. We could go on to say that the next-big-things in music are calculated, manufactured, and drip-fed slowly enough to make as much money as possible in the long-term, though that would be getting into a whole other topic, and I would surely come across as sounding more like a conspiracy theorist than I mean to. For now, suffice it to say that DJs are people for whom their personal taste is their talent.
DJs can be rock stars — in Japan, at any club, no matter what kind of music is being played, like, even if it's just a guy putting a CD in and pressing play, the crowd always stands there staring at the DJ, like he's doing something fantastic. I mean, sometimes, he is. Sometimes, at some of these parties, he's just putting in a CD and pressing play. That's okay, though. Taste can be a talent. Like many talents, you can be born with it, or you can learn it. I've always felt like learning any talent is cheating. Like, the phrase "Rome Wasn't Built in a Day" has always bothered me. Why can't you build Rome in a day? Maybe it's the idea that Rome isn't just a collection of buildings, it's a collection of historical incidents and accidents that gave way to such-and-such a structure being built here instead of there. Is something really a talent if you build it out of nowhere? I've heard of people with no interest in music building up a super-competent taste and hit-of-the-party iTunes playlist composition skills simply by careful reading of blogs. Would someone ever want to be a DJ if they don't like music? I used to think the answer was "no," then I started talking to DJs, and it turns out that a lot of them just wanted to be DJs. No one ever asks me why I'm "in a band," though I suppose that's because everyone sees a guy with a guitar, making a sound with his throat like someone just jabbed a fork through his kneecap, and they think they have it all figured out. Well, seeing as I've never tried to answer that question independently of being asked, they probably know the answer as well as I do.
I'm not insinuating that I'm talented at the guitar, either, or even that I'm uncomfortable with my level of skill. I enjoy myself. The only natural, genius talent I have, really, is for throwing small objects. I'm probably an Olympic-level dart thrower. I don't know where I got this talent. I score bullseyes from down long corridors, or around corners. I occasionally wow guests by throwing the end of the mag-safe adapter at my Macbook Pro and having it stick right into the jack from maybe five feet away. Once, at this festival in rural Japan, they had this game where you could spend a hundred yen for a chance to break three balloons with three shuriken and win one of three huge, ratty Doraemon dolls. I didn't really want the ratty Doraemon. I just wanted to throw some things. Well, with three shuriken, I broke the three balloons in maybe three tenths of a second. The guy behind the counter looked at me like I'd just told him his sister was dead. "Do I get my prize?" The guy told me the polite Japanese equivalent of "find a broom closet and fuck yourself in it." I said, hey, you could at least give me my money back, then. Some guy who was slightly bigger in the chest than me stepped around the corner and pushed me once on my shoulders. I looked him in the eye; he looked away. Suddenly, both men were pretending I didn't exist. I guess I wasn't supposed to win! Probably no one was. Well, I won anyway. That's a built-in-a-day Rome kind of talent. [Shuriken pic source]
So what it boils down to is that these people, whether or not they really, truly love this music, are in this club, and have paid a finger and a toe for the privilege. It seems more than believable that no one at these parties gets laid. Maybe the real goal of walking down these stairs and standing in one of these precious, booming spaces is to simply express yourself, by which I mean "further your agenda." Maybe being in this club, tonight, is going to put your face out there. It's going to make (or keep) people aware of who you are and who you associate with. It's clique-ism, only it's more like one big clique and not everyone is friendly (only congenial) with everyone else. Someone who was at a party on Saturday night might miraculously see you on the street on Wednesday and think, "Oh, that person was at that party, and dressed like [mind's eye picture]." Or, more importantly, they might see you at the next party, and know that you wore something different last time. If you think I'm overthinking this, by the way, you might not have ever been to one of these parties. In conclusion, being at these parties is an opportunity to continue building the list of Things You Should Like. Before you confuse this with the behavior of any "hipsters," keep in mind that the people I'm talking with here and more than hipsters: they are the overlords. They decide what the hipsters like. They are the "tastemakers." Man, I hate that word. Anyway, the collective taste is made up of . . . the taste of a select few.
So here's my band, playing this show at this huge party full of the people who decide what is cool, based on the things that a select few of their hip elite have decided anyone deserves the opportunity to like. The club is equipped primarily for DJing, hence the guitar amps being in disrepair. Also, the only acceptable tom kept falling off the drum kit. The PA system worked. During our second song the hot microphone electrocuted my top lip so hard it burst and bled all over my teeth. I bet people thought that was some kind of edgy performance art. As a vegetarian who abstains from meat because I hate the taste, it felt pretty bad to have to swallow a bunch of my own blood. I couldn't spit it out — it would have ended up either on my guitar effects pedals or on the audience, and either of those destinations would have been rude.
Playing that show was much like rubbing a buzz saw frictionlessly against air in the center of a black hole. When it was over, my only impression was that we'd done a terrible job. I suppose I only thought this, selfishly, because I hadn't been able to hear my own playing or singing, which meant that the primary goal — my own entertainment — had been a failure. If I'm going to become a rock star, and if people are going to adore me for doing what I like doing, I was thinking I would have to be the type of person who needs to be able to see and hear what he is doing.
After all my equipment was put away, after friends snapped photos of me, after the next DJ had put on another hot electro hit, while the second band set up, maybe the most gorgeous girl in the entire club came up to me and nudged me with her elbow. She was about my height. She had these perfect, chiseled, model-like features. She wore a neat white one-piece dress. My god, I think she was Swedish. Her skin was so real-looking it couldn't have possibly been real. She had these bright blue eyes and this white-blonde hair. Her bangs were cut just over her eyebrows. "We have the same haircut," she said. I looked at her. I was covered with sweat. I'm pretty sure she — and anyone — could see my nipples through my thin white V-neck shirt. "Yeah, we do." My god! She was fantastic!
"Your band was really great," she said. "Oh, really? You liked it?" "Yes," she said. "When you were a baby, did your mother ever drop you down an elevator shaft?" "Are you asking me if I have some kind of mental . . . infaculty?" "I'm just joking." "Yes! I like that. A lot. You said, after the second song, 'I just started playing the guitar yesterday.' That wasn't true, was it?" The second song had contained a fairly "complicated" sounding guitar solo. "Oh. Of course not." "That's what I like! I like this kind of sense of humor." Wow! She was fantastic! Her voice, from what I could make out over the airplane volume thumping tweeting of electronic bass sounds, was like some kind of quiet music. She was quiet for a minute. "I've never seen someone play the guitar like that." That might not have been a lie; it might not have been untrue, either. How do I know where she'd been, or what she'd seen. "Thanks." "I mean it, I think you're great. You have a lot of courage, and bravery, to stand up there, all alone!" "Well, there's a drummer, too." "Oh, yes." Every exchange of this conversation had to be repeated maybe sixteen times, first at regular speaking volume, and ultimately screaming, with hand cupped to the other's ear. It amounted to me touching this girl's hair maybe five times. It was so soft. If there were fourteen of her, I'd scalp them all and make me a coat.
So, finally, she says to me, "Do you want to make out with me?"
Wow! They say that many guys start bands because it helps them get girls, more girls than they know what to do with. I'd never gotten any girls with any of my other bands. That was probably because, when I was just a singer, our band's whole schtick was being boring and ugly to the female population. (And many males, too.) As a drummer, I was mostly invisible. Well, my first night as a guy who plays a guitar solo and then continues singing a song, and I had a real, live, gorgeous girl literally asking to make out with me. How did this happen? How did my life come to this? It was a hell of a realization to have, having just arrived at my thirtieth birthday.
Did I make out with her? That's none of your damned business. Okay, actually, let's settle on the answer of "no." I knew where it would lead, and as something of a hypochondriac waiting to happen, I wasn't willing to walk that road. I spend more than enough time every day looking at my penis; I don't need obsession and fear tripling or quadrupling that. I'd never get anything done, even sleep. What are the chances, really, that a girl is both incredibly attractive and attracted to me? I almost typed "a nymphomaniac" instead of "attracted to me" in the previous sentence. That would have maybe been unfair, either to me or to nymphomaniacs. That said, what are the chances that the girl just respected me genuinely? I mean, I've respected a female musician so much before that I wanted to have sex with her probably for the rest of my life, and I wouldn't have even settled for being a man-groupie; I know I was serious, too, because hey, if anyone, I trust myself. Maybe that's different, though, because I go around wanting to have sex with girls I might not respect, all the time. I just looked out the window: One is walking down the sidewalk right now; I don't even know what she does for a living, or for fun, and I wouldn't mind intercoursing with her.
Anyway, I saw this girl, and I thought about all those things about "tastemakers" and people going to these clubs just to be seen, and hopefully looked at, or maybe even photographed, and studied. For some people, going somewhere and being seen at the height of one's attractiveness is a major hobby. For some, it really is a career. I wondered about this girl, for a couple of minutes. The rest of the night, I kept looking over at her, just to see if she was walking up to and asking any other guys to make out. I thought of that Groucho Marx quote that Woody Allen paraphrased in "Annie Hall": I wouldn't want to join any club that would have me as a member. What a miserable pile of obviousnesses I am! All my soundbites are thrice-removed from their parents. The girl came up to me ten or fifteen times throughout the night; she gave me her phone number and everything. Oh man, maybe she really did like me. Well, once she emailed me, asking what I was up to, and I replied maybe a week later, and she said she was "leaving Japan tomorrow." To where, I never found out. I wonder if it was Sweden. Every time I try to remember clearly what she looked like, my mind becomes flooded with my impression of what she would look like, a decade and change down the line: in a fur coat, wearing a deflating she-pompadour, makeup running down her cheeks, on the other side of a restaurant booth, berating me for something I'd done, snarling: "I just want the kid and my jewelry."
The kid and my jewelry! That's what this is all about! The kid and my jewelry! In case you didn't notice it yet, this piece is about what anyone wants out of anyone or anything else: happiness.
To wrap up this now-lengthy personal anecdote, let me say that every "gig" I've ever gotten as a musician or as a writer or a translator or a company employee or whatever has been thanks to a friend on the inside, or thanks to the person in charge liking the band in whatever T-shirt I was wearing. They say, all the time "It's not what you know, it's who you know", and you never really think about it until there it is, right in front of you. This is how the world works. How do you achieve happiness? You satisfy yourself. In a world teeming with other people, the only way to avoid rubbing elbows too harshly is to be agreeable. I know I'm not a unique snowflake, because no one is, and I also know that Hollywood films featuring mentally handicapped protagonists tend to win best actor Oscars, so my own faults are probably useful or poignant information to someone. So it is with tentative confidence that I hypothesize that someone else out there occasionally sits back and thinks about all the girls he's ever had sex with and concludes that none of them really counted. Here's where I brandish the possibility of actually scaring myself: nothing I've accomplished in my life really feels like it is mine. Maybe my sense of self-preservation is confused with my desire for self-perfection. How will I know I've "won" the game of life? I have always wanted the terms to be simple. I find the philosophy of fitness and hygiene fascinating above anything else. I've been lifting weights pretty religiously for a couple of years now, though what is my goal? It's easier said than done: to look at myself in the mirror and know I'm done. What the hell do you do then? What's next? Music has never been a means to get laid, for me; if I have to be in a band to get laid, it feels like neither the music nor the getting laid means anything. I'd love it if my 100% ideal girl would just walk up to me in a brightly lit white room and say, staring me right in the eye, "I'd like to have sex with you now." That would be the only way it would "count." (As long as, afterward, I conducted a thorough background check and realized that she was, in fact, not a high-class prostitute sent to me as an elaborate prank.) Everything else feels like cheating. For now, though, you know what makes me happy? Running. If you run ten kilometers, it's suddenly not winter anymore. Run twelve, and it feels like spring. Run eighteen and your mind goes somewhere else; it feels like a deep, dreamless sleep on a mild summer night, pleasant and soothed by some just-inaudible sound. When you're done running, it puts everything into a different context; you can just sit on your sofa with a bottle of water in the dark and just not care about anything. Maybe that sounds pretty desolate. I don't mind it so much. I prefer it to videogames, these days.
WE ARE TALKING ABOUT VIDEOGAMES NOW
So I was playing Final Fantasy XIII for about forty hours before I just started hating video games. It just exhausted the shit out of me — in the bad way. Here's what it does:
You level up using this thing called the "Crystarium." You win "Crystal Points" at the end of every battle, and then you can slot them into nodes on the Crystarium, learning new abilities, or increasing your maximum hit points or magic attack power or physical attack power. However: the Crystarium starts out fairly small. Every time you beat a major boss, the Crystarium gets a "level up." This means you earn access to more nodes, for more upgrades. What the game is saying is, subliminal-like, that you don't have to level up your dudes any more than you're able to right now in order to beat that boss in a couple of hours. What's weirder is that, if you fight all the enemies on the way to the boss, you'll more or less have enough Crystal Points stored up to level everyone up to maximum? Why doesn't the game just level us up automatically? Because it thinks we want to open the upgrade menu and spend our points manually. When we purchase upgrades, we don't just highlight the desired upgrade and press the confirm button. We hover the cursor over the previous upgrade, press the directional pad in the direction of the next upgrade, and then hold the confirm button while a line slowly extends in the direction of the next upgrade, accelerating as it nears its goal. The game has propped up this epic-huge disingenuous facade because it thinks it makes us happy.
Entertainment is, in general, lies. You usually don't mind that what you are seeing or reading isn't real, as long as it's at least internally consistent or arrives at a satisfying conclusion. I feel that games have this immense potential for satisfying the player — because you're in control, the ultimate catharsis can be stronger than any feeling in the world. Instead, games seem to have studied too much psychology and not enough literature. I am genuinely scared of the planning documents responsible for Final Fantasy XIII's Crystarium. I am scared of the presumptions regarding humankind contained in those documents. The game's entire design document no doubt reads like a beef stew recipe. Final Fantasy XIII is a terrible liar for so many seizure-inducing reasons. Take the battle system: You can no longer just hit enemies until they die. No, you have to "break" them, using a combination of magic and physical attacks. Magic causes the break meter to build up, though it recovers too quickly to be useful, so you need to use physical attacks, which don't build the break meter — they just slow its recovery. Once an enemy is broken, you can do damage. The more you hit it, the more damage you do. A broken, lone enemy surrounded by three tenacious warriors is as good as dead. The game "lets" the player input the commands to kill the enemy, because it's "satisfying"; it's the "Yes!" moment, the moment the gorgeous girl appears before you and informs you that she would like to have sex with you now. Except you don't even get the joy of seeing the girl walk across the room: She just materializes. It feels so soulless to input all these commands to kill the monster. It's such a given. Then again, if you didn't, what would we be doing? Would there just be a "checkmate" button to press to end a battle when it was beyond the monster's hope? Remember when you were in elementary school, and you just watched a movie on the last day of school? Someone invariably asked, "If we're not going to do anything today, why wasn't yesterday the last day of school?" If thinking like that prevailed, kids would go to school one day a year, watch "The Little Mermaid," go to lunch, go to recess, watch "Beauty and the Beast," and then go back home. It's like, you know that moment in Command and Conquer when you drag the mouse and highlight your sea-storm-like cloud of tanks, scroll down the map, and then click on the enemy base? If we employed the "last day of school" kind of thinking, maybe the goal of the game would just be to have more tanks than the other guy. Just keep building tanks; first person to have twice the tanks than the other guy wins. God, that game would be boring as hell.
Final Fantasy XIII is disingenuous when it rewards you for entering menu commands carefully enough to "break" an enemy by "letting" you enter commands haphazardly to destroy the "broken" enemy. It commits the quick and dirty sin of presuming that we have nothing better to do than Play This Here Videogame, or that (crucial) we absolutely love choosing items from a menu in a game, especially when the consequences have dropped away (the enemy is impaired irreparably). To me, this feels like having no writing talent and being asked to write a column for a huge website because the editor-in-chief likes you personally. (Uhh.) When will we find a game that recreates the thrill of receiving a joyful acceptance letter six weeks after sending a short story in to a magazine unsolicited? We have so many Japanese games where you play as a guy trying to get a girl. We're always free to imagine what the guy does with the girl after he "gets" her. Some games in which girls get guys for a change have cropped up; they're useless. Where's a game that recreates the thrill and the feeling of actually finding a man who really is willing to get married and have children, who isn't just telling you what you want to hear?
The quick solution to this riddle is: These games don't need to exist. That's what real life is for.
Okay. Well, then, where's the game that lets me feel some shred of what it's like to be the confident, super-hot girl that every guy in the club is staring at?
RHYTHM GAMES
A lot of people have asked me, lately, what I think of rhythm games. Man, what a loaded question. If I say that I don't play rhythm games, and if the person I'm talking to knows that I occasionally scrape a "real guitar" and scream in front of sometimes-annoyed, sometimes-entertained audiences, they'll immediately assume I'm being an "elitist." Whenever you refer to your alternative to someone's dear hobby as a "real" anything, you're bound to take some damage. To be honest, maybe playing a "real guitar" does have something to do with why I don't play rhythm games. Or maybe it's just that the brain stimulation affected by a rhythm game is not (at all) the kind of thing I crave. Rhythm games "reward" the player for press the arbitrarily determined buttons in perfect time to the music. Your reward at the end of a song is a number, worth bragging rights or Xbox Achievements, or the permission to play another song. Okay, sure. While I can't say that no songs on Rock Band or Guitar Hero interest me at all (I own maybe a dozen vintage AC/DC shirts from the 70s right up to 1990), I can say that, in general, it's not my kind of music. The music is too perfect, too "good"; I perfectly like making stupid, unpolished, unfinished, spontaneous, shit-like, music-like noise. I never want to make "real" music, like something they'd play on the radio. I have fun with what I do. I'm perfectly happy not making perfect music. I'm perfectly happy not being able to play any songs perfectly, even my own songs. Life is its most fun for me when it's an impossible learning process. Rock Band tells you, while you play, how many "fans" are still in the "audience." If you play supremely well, the number of "fans" inflates to well more than the capacity of the club. So that says it, then: Rock Band is insinuating that a rock and roll musician's primary goal is to Get As Many Fans As Possible.
They say not everyone can be a rock star in real life — not everyone can get everyone to love them, adore them, and/or respect them. Why not? Why can't everyone be respected for doing what they like? Because there are many jobs that no one wants to do; some political machine invented words like "circle-jerk" to describe, among maybe one other thing (involving penises), the situation that results from a bunch of people doing what they like and respect about each other, to make some people feel hesitant and ashamed to pursue a career vocally butchering opera and instead spend their life picking up trash from the side of the road.
In other words, maybe the maybe-Swedish girl, that night, wasn't high, or even drunk — maybe she really was attracted to me; maybe, above anything, even looks, she respected a man who did whatever the hell he wanted and wasn't ashamed of making mistakes or being stupid. Maybe she was one in a billion.
We've established, in previous columns, that I don't like being told what to do; I also don't like being told how well I'm doing something. I hesitate to talk about this in too much detail, because this whole house of cards would fall apart pretty quickly if I did that. Suffice it to say that, when I finish playing Rage Against the Machine's "Bulls on Parade" in Guitar Hero III and the game tells me I got such-and-such a score, I feel kind of sad, and hurt. I can play the song on a real guitar, while singing it, while my drummer pounds the drums, in front of five or six friends in our studio on a weekend, and it either rocks or it doesn't. The thing is, when you take away the loudness of a real live guitar and real drums, when it's just a bunch of lights on a TV screen, you can't in good conscience just throw up a screen at the end that says "You rock" or "You don't rock." The player needs constructive criticism, and that means numbers. I think about Final Fantasy XIII's battle system again, just now: Typical enemies have millions of hit points, and just when you get the monster into a cinematic, terrible, tragic position and your dudes close in on it, numbers just fly out every which way. You see the shit out of those numbers. Huge, five-digit numbers. Any point when these numbers would come out is a point when the enemy is definitely going to die. The developers must have realized that, over the years, some junk has accumulated on the curb of the minds of gamerkind, that we equate big numbers with big thrills, and so they implement a big-numbers-heavy battle system so as to "refresh" the player. "Refresh" is the word they always use in Japanese marketing. It's like, the more "refreshing" you make a game, the less it feels like you're really involved, or doing anything: the more tenuous your connection to the fantastic on-screen action begins to feel. What's next, then? I wonder when Sony or Nintendo or Microsoft reveal a controller that must be placed on a soft carpet and manipulated using Q-tips held by tweezers.
Another paragraph, a similar idea: recently, Jack White of The White Stripes joined the growing list of popular musicians expressing some degree of dislike for rhythm games. His opinion was that it's "sad" that "this" is how kids are learning about music. I remember the comments on the Kotaku post that quoted Jack White's sadness. They were eviscerating. I think maybe 65% of them immediately called Jack White a hack who writes shitty music so he should just die already.