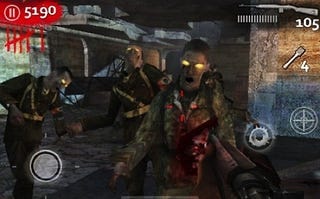 Treyarch wasn't really interested in the business of making cell phone games, at least not before the iPhone.
But the tremendous success of Call of Duty: World at War: Zombies on the iPhone has the developer, best known for their hardcore console shooters, reconsidering.
"We are very interested (in bringing more games to the iPhone)," said Josh Olin, Treyarch's community manager. "It has treated us well."
Zombies rode the top of the charts for paid download apps on iTunes for a number of weeks, and the $10 game hit the top again after a free, lite version of their shooter was released.
Today the company is rolling out an add-on pack for $5.