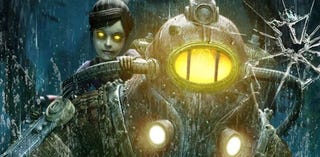 I can buy video game's depiction of intergalactic war, sure. Gaming portrayals of romance are a tougher sell. But there's another kind of love that's suddenly popular in games and is being done well: The love of being a dad.
I write this article from the disadvantaged position of being married and not being a father. It's possible that what you're about to read is tainted by my gullibility in believing in something I've not experienced. My admiration for the the way modern video games portray the love a father has for his child — as opposed to the ways they often falter at believable marriages and dating situations — may be due to nothing more than my inexperience, the fact that I've been a father only as many times as I've experienced intergalactic war. Being married is something I've done one time more than that, happily and continuously.
I will nevertheless dare suggest, in this week leading to Valentine's Day, that video games are still not the great portrayers of believable romance, less accomplished at that feat than chick flicks and breath mint commercials. There may be some successes with romantic love in games, but not as many as there are attempts at depicting it.
Being a dad, however, is becoming nearly as popular in video games as health bars and shotguns and, to my playing sensibilities, nearly as successful. I believe we are now experiencing a period of video game history that high school text books will look back upon as The Daddening Of Video Games.
For years, video game dads have not been us. They've primarily been non-playable characters. More specifically, they've been your dad. Your dad who is dying and hopes you can pick up his sword and fight. Your dad who is evil and is hoping you won't pick up a sword and fight. There have been glimpses of what it would be like to be a dad in video games — you were Pac-Man, after all, and therefore possibly the father of Pac-Man Jr., with all the concerns that entails? — but usually dad was some other guy. And seldom, at least in the hundreds of games I played, was I a video game dad. I was the son. I was Marcus Fenix, bold son. I was anonymous Fallout 3 hero, heroic son searching for dad. I was Solid Snake, son of someone or other, though I was often confused as to who dad actually was.
Recently, as in 2010 again and again, I've been playing as dad. Roles have been reversed. The Wii's Silent Hill Shattered Memories, one of the last of my 2009 backlog games that I finished early this year, had me as dad Harry Mason, looking for his daughter, Cheryl. The point of the game is that you are a dad, motivated to do just one thing: find your daughter. Shattered Memories is a remake of an older game, yes, and a sign that being a dad isn't brand-new to games, but let's explore further without majorly spoiling games, don't worry.
This week we get Bioshock 2, where you are, as the box art shows and as our review explained, a Big Daddy, trying to reacquaint yourself with the Little Sister who was put in the series' paternal Big Daddying care. You know, Big Daddys protect the Little Sisters, let them cling to their backs, etc.