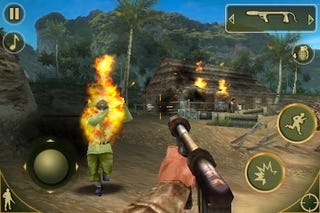 After a first Brothers in Arms on iPhone that turned the World War II series into a third-person shooter, series creators Gearbox Software and publisher Gameloft are issuing a bigger first-person sequel any day now.
I tried a preview build of Brothers in Arms 2: Global Front on an iPod Touch yesterday at Kotaku's New York City office, getting a handle on the a rare iPhone/iPod sequel to a popular PC/console-born shooter brand.
As positively as we reviewed the first iPhone release in the series, 2008's Brothers in Arms: Hour of Heroes, the virtual control stick, virtual buttons and on-screen player avatar crowded out the action.