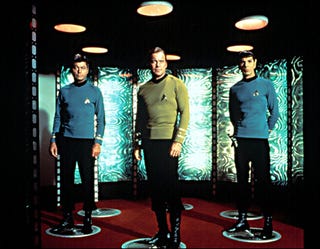 This week's launch of Star Trek Online gives video games another chance to make the fantasy of Star Trek seem a little more real.
But the rest of the world has also been up to the task, as year by year, our surroundings become a little more Star Trek, something for which video games are partially to thank.
Now is not yet the time to reveal that I own an Enterprise or once dated a green-skinned woman. I can admit, though, that with the help of lists and that one thing they didn't seem to have in Star Trek — the publicly-accessible Internet — that the world seems ever closer to embracing the technologies and trappings of Star Trek.
We can see the Star Trekification of our world around us, from the preponderance of hands-free in-ear communication devices that make Lieutenant Uhuras of us all, to the increasingly broad acceptance of grown men, in the workplace, wearing untucked shirts.
I haven't played multi-layer chess and merely owning a Klingon dictionary neither makes me a Klingon speaker nor does it make Klingons real. I do not believe that slingshotting around the sun would get us back to the 80s, though I'm not sure anyone has tried.
But I did learn from one list that MIT was already making a tractor beam and the University of Washington was making a Tricorder.
We don't have holodecks yet, but who is closer to making us feel like we do than the makers of video games, specifically the architects of geographically variable spaces such as World of Warcraft and PlayStation Home?
We don't have beaming yet either, though again I have to credit video game designers working on everything from No More Heroes 2 to Grand Theft Auto IV with at least having the foresight to model vaguely realistic worlds where a journey can be shortened with a quick teleport.
Star Trek had replicators that immediately generated whatever food you hungered for. Even before Star Trek was out, America had restaurants called Automats which faked the effect by wheeling requested food your way. Food on-demand? That's still far off — at least until the delivery guy has access to a teleporter — but that notion of on-demand is otherwise omnipresent. We can just about bark at a computer, tap a few keys and get whatever music or movies or video games we want.
Instantaneous satisfaction was the underlying theme of so much of Star Trek tech. Let's get to that planet's surface now. Let's get the food we want now. Let's skip the boring parts of driving, flying, sautéing and frying. That same quick satisfaction is the expectation that drives so much technological innovation and design in our world.
It wasn't just the doing that needed to be done faster in Kirk's future. It was also the knowing.
Knowledge was one of the three best Phaser settings in Star Trek, one of the most effective tools for making peace and keeping one's starship intact. How did you attain knowledge? You used touch-screen computers, which we now use to for everything from money withdrawals from ATMs to manipulating interactive talking cookbooks on the Nintendo DS to surfing the web on an iPhone.
You could learn things in the Star Trek world by flicking open a Tricorder or, in The Next Generation, by tapping a pin on your chest. Someone would usually be within communication distance to tell you where you were, whether you could eat a nearby plant or how to not get killed by the Ferengi. Yeah, we got that. Cell phones again, and the Internet in the palm of our hand.
A week ago, Apple announced an iPad, one of the most Star Trek-looking devices yet manufactured in the real world. It did not diminish Star Trek that this most Star Trek-looking device was denigrated by people across the nation. It's just a sign that Star Trek helped people dream for the ever more exotic thing, the magical futurism of a world with ray guns and advanced ways to talk at long distances. That's a world we can see ourselves more easily living in and, because we already have in some ways, exceeding. An iPad? Looking as it did like a thing from Star Trek, a PADD, appeared to be something we should make better — and that some who own an iPhone believe we have already bettered.