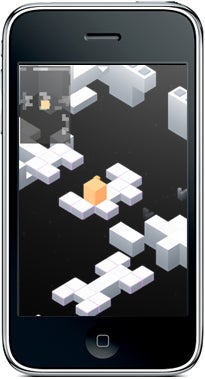 While it's a bit peculiar to give GOTYs for a single mobile device, none had as robust a library of games offering as Apple's iPhone and iPod Touch did in 2009.
There are almost too many out there to offer an authoritative comparison of them all. But here are the ones I enjoyed - and played - the most in my first full year owning an iPhone, and they're all laudable achievements in design and gameplay on a platform that is, for the most part, still very new.
Honorable Mentions

2XL ATV Off-Road
I find tilt control to still be a work in progress for many games, but in 2XL's ATV Off-Road, it is expertly tuned, making it one of 2009's top racers. In addition to the controls, ATV Off-Road delivers a console-quality experience, another holy grail of mobile gaming that, while laudable, seems to get in the way of some games more than it helps them. Not here. You're given arcade and career modes for your racer, untimed freestyle tracks if you just want to jump off cliffs and land tricks, and best-in-class visuals. There were many ambitious attempts to deliver core gaming on the iPhone, and ATV Off-Road delivered on that potential the most.
Dapple
Another early review that still manages to entertain me nearly a year later. Dapple is a knockout puzzler with a mixing paint theme - blend two colors to create a third, and use that to knock out four or more adjacent pieces of the same color. I earlier knocked the game's randomness but after playing it several dozen hours I can see its necessity, otherwise you might keep playing forever. The timed and untimed modes and varying difficulty levels deliver solid replay - indulging either long time-killing stretches or short runs at a new high score. The colorblind assistance mode is also shrewdly constructed and a wonderful gesture by the creator. Yet even as a colorblind gamer I can play its standard mode for an hour, never feeling at a disadvantage.