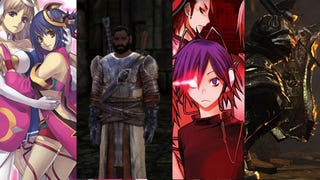 While the jury may still be out on our Game of the Year, we've already rolled the dice on the Best Role-Playing Games of 2009.
Why are we doing a best Role-Playing Game award and not a Best Shooter, Best Driving Game, etc.? Because this is an Editor's Choice category, ladies and gentlemen, and role-playing is my genre of choice. When my writing is done for the day and I'm in-between reviews, I spend my free time increasing stats, gaining experience points, and managing my skills in strange worlds where the fate of everything rests on my shoulders.
It wasn't easy, narrowing down the RPGs I've played in 2009 down to three runners-up and one winner, mainly because I can squeeze a great deal of enjoyment out of the worst the genre has to offer. It's like judging your own children. You know they have flaws but you overlook them, because flaws and all, they're a part of you. Once I forced myself to look at them with a more critical eye, however, the overall best floated to the top rapidly.
Runners-Up
Demon's Souls (PS3)


Demon's Souls is a contender for Game of the Year, yet it doesn't make Role-Playing Game of the Year? How can this be? Demon's Souls is an amazing game, no doubt. It's challenging to the point of being punishing, and the tension generated by knowing death lurks around every corner is almost a tangible thing. It's a knot in your stomach that only fades with repeated play-throughs, and even then you'd be foolish to let your guard down too much.
And honestly, that's why it's only a runner-up. It's fantastic experience, but a bit too tense.