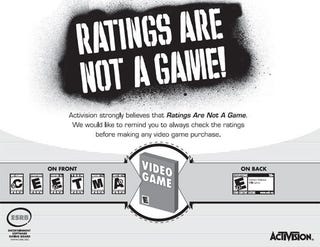 A survey conducted by The Harrison Group and Activision Publishing has found that a large percentage of parents with gaming children are familiar with the ESRB ratings system.
As the popularity of video games continues to grow, so does parental awareness of the ratings system that governs the industry. The survey, which gathered the results of 1,201 online interviews of video game players aged 6-44 and their parents, found that 82% of "gamer" parents were familiar with the ESRB rating guidelines, seven percent more than the game-playing children themselves.
Heartening results, especially when considering that just two years ago the National Institute on Media and Family gave parents a C grade for involvement in their children's video game playing.